The New Colombia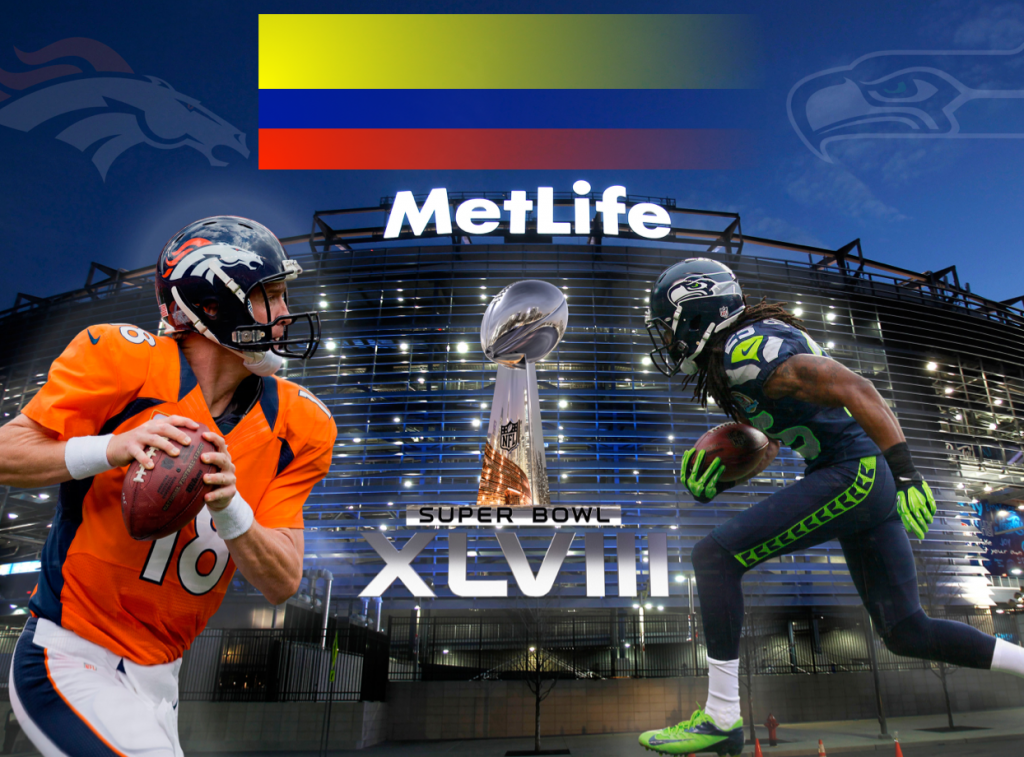 There's a post I've wanted to write for some time (actually a lot of posts), but the day-to-day hustle has succeeded in keeping me from writing (how's that for a lame excuse?).  It has to do with what I see happening in a number of Latin American countries (e.g., Brazil, Mexico, etc.), but have direct experience with here in Colombia. Basically, the Colombia I'm experiencing at this moment is quite different from the Colombia of only five years ago.  One of these differences, which is very trivial to some, is the fact that this past Sunday I had a plethora of choices of where to watch the Super Bowl compared to several years ago (that's how justify attaching such a far out picture to this post).
I recall the frustration I felt several years ago trying to find a place to watch the Super Bowl (the what?).  Nine out of ten people I would ask had no idea what this was.  Granted, this is quite an ethnocentric view of the world on my part given the comparative popularity of soccer and cricket in the world.  Nonetheless, it speaks to something that I've been noticing more and more: this and other countries like it are accelerating their connection to the world.
By this, I don't mean that it's all a one way street (Colombia connecting to the world).  I also mean that more and more people around the world have heard of the incredible things that Colombia has to offer (e.g., warm and beautiful people, great lifestyle, etc.) and are more interested than ever in visiting or moving here.  This popularity  was unimaginable several years ago and, yes, there are still serious problems that one deals with on a daily basis, but the change is notable nonetheless.
I'm sure others here have experienced comparable things as I have.  For instance, a year ago, I was contacted (through this blog) by the office of the Governor of Massachusetts because he and those around him were interested in connecting with this country.  I rapidly put him in touch with the best people I knew inside and outside the government and we ended up having a great event at the new accelerator I co-founded.
Additionally, I've incredibly impressed by the Silicon Valley entrepreneurs and investors who have stopped by Colombia.  I've more involved in setting up some of these visits (e.g., Paul Bragiel, etc.), but others such as the co-founder of Hootsuite, Dario Meli, have been incredibly nice surprises. There are others who I don't name because I don't know if they'd like me to or not.
The government here has a number of initiatives which are focused on fostering a stronger startup ecosystem.  This is great and I've been working with some of these initiatives.  Nonetheless, one thing I hope for is a more active role from the Executive Office in order to take advantage of a unique opportunity that countries (not just startups) have to really transform their productive capacity.  I really believe that the potential is there and I know some countries (particularly, in Asia) believe this to the core and will reap the benefits of holding this belief in the coming decade.
In conclusion, things have changed tremendously.  Three years ago, when I launched the Colombia chapter of the Founder Institute, the concept of mentorship and an actual "startup ecosystem" were not really discussed.  Also, my bringing entrepreneurs such as Ranjith Kumaran, Andrew Lee, John Dallas, Jeff Stewart and Gabe Zichermann were relatively new events. Even building a local mentor network was new (there's some amazing experienced talent in Colombia).  Now, there are numerous initiatives running all around the country and many, many people mentoring startups.
Also, in terms of evangelization, there are many more people promoting the idea of building your own startup (although, I always mention that this is incredibly hard to do).  A few years back, I really felt it was key to write pieces in publications such as VentureBeat and the New York Times promoting the Colombian ecosystem.  Nonetheless, I now feel that there are enough people doing this and I can focus on the next stage.
In 2014, I'll be disengaging from the aforementioned areas (e.g., government acceleration, promotion, etc.) where there are many people who are eager to take up the slack.  This doesn't mean I'm not going to do any of this.  For instance, I'm committed to the Founder Institute and believe in the impact it's having and will have.  It just means that I'm going to select my activities much more carefully and focus my efforts a lot more on initiatives the initiatives I take on either because of great chemistry with the people I'll be working with (I want to have fun) or because it includes a new and interesting challenge or both things at the same time.
I'll shortly be announcing details about the changes I'm making as I disengage from my present activities.
Now, I need to pack my suitcase for a 10 day trip to Silicon Valley. What a crazy moment (hours before boarding a plane) to write such a long post, but what can we do when inspiration hits?