Great Visit from Founder of YouSendIt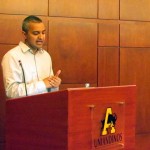 I really enjoyed Ranjith Kumaran's visit last week here in Bogota. Ranjith came to mentor at the Colombia chapter of the Founder Institute.  He also spoke at the alumni association of one of the most prestigious universities in Colombia.  As you'll hear if you play the streaming version of this presentation he lays the blame on my doorstep for leaving him with little time to work on prettying up his slides after the several social engagements we had.  Also, Ranjith, very intelligently, stopped by the coast and experienced the amazing atmosphere in Cartagena before arriving in Bogota.
It's been about two months since the Founder Institute semester started here in Bogotá and it's been so gratifying to see the impact that it's been having on the local ecosystem.  It's tough to put into words the different levels on which the Founder Institute is starting to transform things here. Something I've really enjoyed is the observing the founders as they realize that people like Adeo Ressi and Ranjith Kumaran and the local mentors (building this group has been one of the best things about the Founder Institute for me) are so incredibly accesible and fun to be around.  My impression of Colombia is that, in some respects, it's quite a formal society, and, because of this, many expect people who have earned a certain level of success to build a wall around them.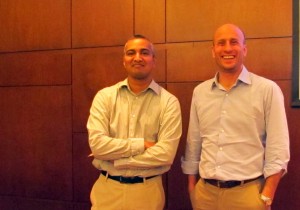 I have to say that the interest in technology startups is accelerating at a rapid pace here in Colombia.  There are really big organizations and companies (some multinationals) who are interested in nurturing this environment.  Nonetheless, it's the Colombian startups such as CO Internet (Platinum Sponsor) and the regional "Paypal" called Latin American Payments that understood how transformational the Founder Institute will be in this country and decided to sponsor this initiative in Colombia.  Between these sponsors and the local mentors, the energy and interest in giving back has been the common denominator in supporting this initiative and that characteristic is obviously present in people like Adeo and Ranjith.
While he was here, Ranjith was also able to stop by the Caracol Radio station for an interview.  The Founder Institute session was excellent and, along with local mentors Camilo Gomez and Christian Boelke, Ranjith was able to review a number of the ideas from the Colombia founders.  Ranjith was also able to talk about his new loyalty startup called PunchTab which recently closed a $850k funding round.  Aside from specifics, it helps local entrepreneurs to hear HOW Silicon Valley entrepreneurs even talk about different aspects of their business from customer acquisition to customer development.
Aside from the impact that these external mentors have on the local environment, it's great to see the impact that Colombia has on these mentors.  If you listen to any of the interviews, Ranjith comment about the fact that he travels around the world and he quickly felt like Colombia is one of those places where he could spend quite a bit of time in the future.