The Bragiel effect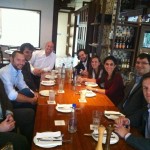 Well, yesterday was a whirlwind day, but incredibly impactful thanks to a visit from Paul Bragiel, President of i/o Ventures in Silicon Valley.  Thanks to some great help from my colleagues Martin Ramos and Juan Sebastian Duque, we were able to schedule an agenda of meetings/events.   In emerging markets such as Colombia, getting startup ecosystems moving in the right direction is fraught with challenges.  Yesterday, Paul was instrumental in getting some key messages across to different audiences in his own clear and passionate style for which I'm extremely grateful.
I got introduced to Paul by Adeo Ressi who has also had a great impact through the Founder Institute on this country's startup ecosystem.  A few months back, I had a great chat with Paul at his offices in San Francisco and we spoke of the possibility of his stopping by Colombia.  Fortunately, everything came together and, as I mentioned, yesterday was extremely productive (and fun).
We started the day off with a breakfast with some of key business leaders.  Paul spoke to them about startup ecosystems in other emerging markets particularly from the point of view of angel investing.  His talk was clear and filled with key suggestions for how to think about angel investing and where to start.  Coming from someone who lives in Silicon Valley, is a serial entrepreneur and investor, this was invaluable.
Then, after meeting with a few entrepreneurs, we had an excellent lunch with key players in the public and private sector.  Catalina Ortiz, Luis Florez and Marisol Camacho from government agency Innpulsa discussed a number of issues with Paul as did Camilo Serna and Claudia Obando from the Ministry of Technology.  Carlos Castañeda and Johanna Harker from startup incubator Wayra were unable to make it, but Diana Gaviria and Tatiana Leon from incubator Connect Bogota were there.  To my right in the photo was Hernando Barreto, my colleague and partner in our new accelerator called Socialatom Ventures. In the foreground is Dan Gertzacov, Americas CEO of an amazingly innovative (and well-funded) financial services startup called Lenddo.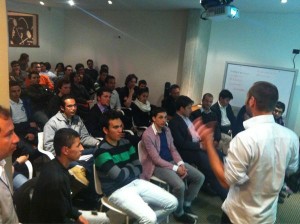 The lunch was amazingly dynamic and stimulating and was a great prelude to the launch of the aforementioned incubator, Socialatom Ventures.  During the launch, Paul spoke to a room full of entrepreneurs about his experiences and answered a variety of questions on what it takes to create a successful startup.  The Ministry of Technology accompanied Hernando and myself as we spoke about how to apply to Socialatom Ventures.  I was pleasantly surprised to meet excellent startups such as a polished gaming company, a Software as a service company targeting the education market and, incredibly, a startup with a new take on databases (with an amazing product and a good amount of users).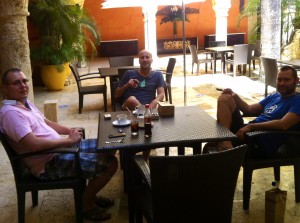 Paul's next stop is Cartagena and I'm sure he'll have a great time there especially without our filling up his schedule with activity after activity.  I (and many of my colleagues) want to see Colombia wake up from its startup slumber andstart to really create some type of impact.  That's why, watching the audiences and participants during all of yesterday's activities was incredibly satisfying for me as I was able to see first hand the "Bragiel effect."  The Bragiel effect is the possibility to have the maximum number of key players in an emerging market ecosystem gain additional insights into how to move the ecosystem or become aware of the possibilities of digital innovation thanks to a credible and passionate spokesperson.