Where to focus in the new year?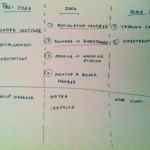 As I write these first words of this post, the clock has just turned to 12am and the first minute of 2013 has started.  I just got back from a cool get together at a friends house with the wife and kids.  It was time to get the kids to bed and, thus, I find myself celebrating in my own special way by organizing my thoughts in a blog post.

How different from the way I celebrated the New Year when I was younger as a boy in Pennsylvania with my parents listening to Guy Lobardi or, later in California and here in Colombia partying the night away.  Nonetheless, at this age, having the family fast asleep and typing away while I have small window on my iMac replaying one of my favorite movies, is a pretty cool way for me to usher in the new year. During the past days, I've been soaking up my favorite gangster flicks from The Godfather to GoodFellas, The Departed and Casino.  I know. I'm weird.

Just before siting down to punch out this post, I was able to leisurely sketch my key activities for the next year (see picture at the top).  Just looking at that sketch generates a voice from my inner mentor self saying that I'm involved in way too many projects.  In other words, since I have suggested to some of the startups that I've mentored in the past that they focus and try not to do too many things at once, I'm being quite a hypocrite in having too many cards on my own table (please don't tell anyone).
I've basically got two main areas where I'm focusing my efforts.  One is as the founder and a board member of SuperTrendi, startup focused leveraging the Internet for selling top brand women's fashion.  The other area of focus in in helping other in-country startups growth through my efforts with Wayra and the Founder Institute.   In addition to these efforts as well as mentoring for Endeavor, the plan is to launch a new full-time accelerator (Founder Institute holds sessions once a week at night) called Socialatom Ventures.  I recently has a good live session with Andres Barreto on what we're trying to accomplish with this new accelerator.
With respect to SuperTrendi, after finding some local investors willing to bet on my vision for a new fashion brand (retail brand at this stage), I was able to build an initial site with initial product in a bit over six months.  Because I became a founder later in life (wife and two kids), I couldn't burden such a nascent startup with my salary requirements, thus, the plan entailed hiring someone who could handle day to day operations till I can come back fulltime.  Unfortunately, SuperTrendi still doesn't have the funds that would enable me to draw a salary that can keep me afloat, but I continue to guide the operational team as a board member.
Until that day, I will be helping other startups find ways to grow and improve their chances of success.  Initiatives such as the Founder Institute and Socialatom Ventures are implicit bets on the Colombian ecosystem and an ability to find entrepreneurs and startups with a chance of hitting it big.  I definitely debate myself on the merits of the wager on the local ecosystem.  There's no question that it can be quite satisfying helping entrepreneurs (mainly, those that want to be helped), but this year (2013), I really need to think hard about expending energies in this direction and not SuperTrendi.
Don't get me wrong, I'm excited about what the Founder Institute is already accomplishing in the Colombian ecosystem and what Socialatom Ventures has the potential to accomplish.  Nonetheless, I really need to consider the opportunity cost of not finding a way to get new funding for SuperTrendi so that I can dedicate more of my time (ideally, all of my time) to making this startup a success.
The good news is that, either way, I'll still have time left over to dedicate myself as a mentor/advisor to a handful of promising startups.  As I've written in the past, I'm particularly excited about the prospects of Mapache Studios. One of my longer term objectives is actually creating an investment fund to invest in such startups, but it may be best to let that eventuality happen at a more natural pace while I continue to build SuperTrendi.