Sixth week at Socialatom Ventures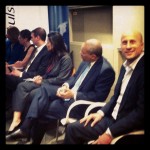 It's been quite an eventful week.  As I, and the startups that we're accelerating at Socialatom Ventures, head to New York City (NYC), there's a lot on which to reflect.  On Tuesday, government agency Innpulsa Colombia and ourselves hosted an innovation event at Socialatom Ventures.  Guests included a number of leaders from the Colombian startup ecosystem (public and private sectors) as well as dignitaries from the government of Massachusetts including the Governor, Deval Patrick. It was great to see all of this come about as it was only about a month ago that some of these people reached out and mentioned their tentative plans for a Colombia trip.
During the event, I announced that Socialatom Ventures would be moving to a new location called the Atom House located a few blocks away.  Before this announcement Catalina Ortiz, CEO of Innpulsa Colombia and myself had the opportunity to introduce the Governor to the three startups that are going through our Atom Accelerator program.  We are running two programs in parallel.  A government program called Apps.Co and our own program called Atom Accelerator where we invest US $25k in each startup in addition to our mentoring them.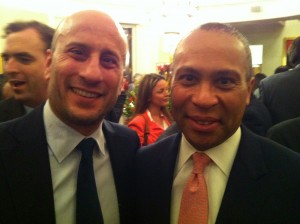 The companies we presented to the governor included JustContract.me which provides an alert service that matches government contracts with the specific skills of service providers who sign up; LegalJump which is a Chilean startup with a model simlar to LegalZoom, but for Latin America, and, finally, Oja.la which offers programming courses online to Spanish-speakers.  The Governor really seamed to enjoy speaking with these startups and also the general vibe from all of the startups from the Apps.Co program as well.
After this event (and a reception at the Ambassador's residence), we had our weekly Wednesday progress meeting at midnight.  Some of the startups are really progressing and it showed during this meeting.  Not all of them are progressing at the same speed, but I think that it really helps the slower ones to watch the progress of the faster ones.
Today, Thursday, I had a quick meeting with a top global Google executive named Nelson Mattos and then headed to the Wayra Demo Day to hear the pitches of some of the startups.  I'm an advisor for Mapache and was really happy with the pitch that Ricardo Jimenez gave that day.  I've also been working with two other startups called AgentPanda and CodeTag and was happy with their pitches, also.
Coincidentally, it turned out that I was flying out to NYC at the same time that Bowei Gai of the World Startup Report was arriving in Bogota so we set up a meeting at the airport.  It was great chatting with him (he sold his startup to Linkedin) about what he's doing and about the Colombian startup ecosystem.  Tonight, it's off to NYC on the read eye in order to attend tomorrow night's meetup.  It should be an eventful meetup with movers and shakers within the NYC tech scene and I'll try to post one or two pictures and write some more at the end of this post.