Digital Transformation Up Close and Personal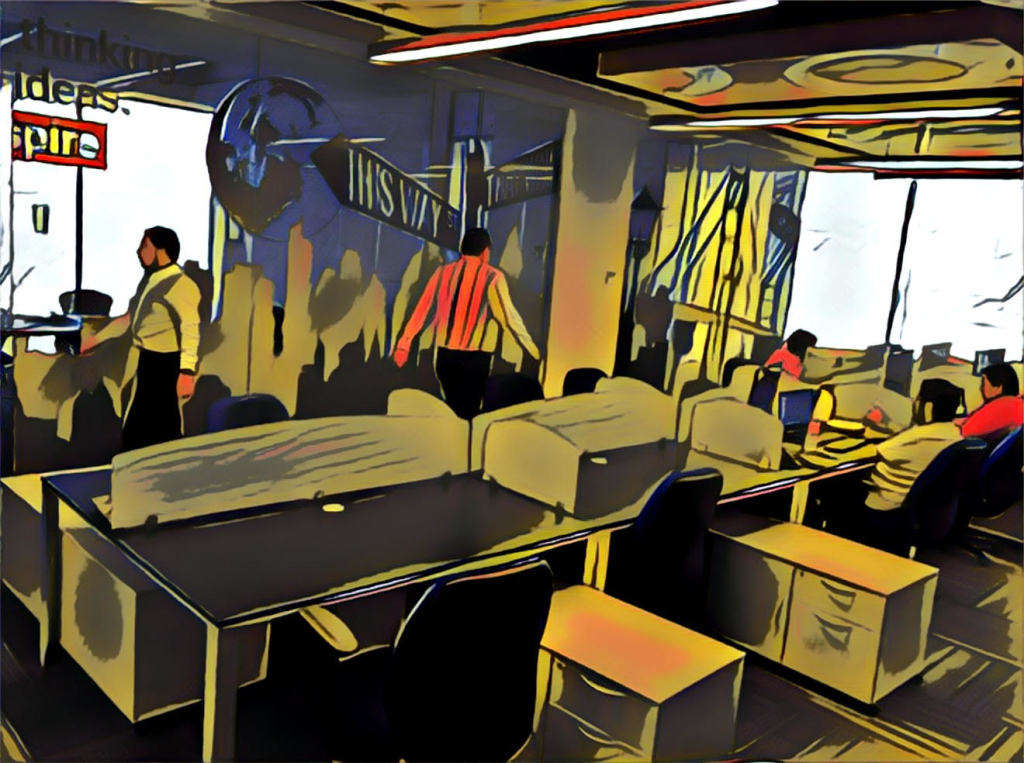 A year ago, I joined the New Digital Business group within BBVA, a large global bank actively transforming its business. Several weeks ago, we publicly announced the acquisition of digital payments startup Openpay, the culmination of a project that myself and a great boss within said business unit worked on during the last year. I'm looking forward to the huge impact that Openpay (see filtered photo of HQ above) and its impressive founders, Roberto Bargagli, Eric Núñez and Heber Lazcano will have on BBVA's digital business.
I'm actually writing this post from Queretaro, where this company is headquartered and I have the good fortune to work with them as part of BBVA. Finding and acquiring a high-quality startup such as Openpay speaks to the opportunities (particularly, in terms of acquisitions – only one tool) available for digital transformation in Latin America. I'd like to use this post to share some general opinions about digital innovation and the ensuing business transformations that corporations are going through as well as some insights about the Latin American startup scene.
First, a bit about my own journey. I arrived at BBVA from the startup world after meeting a sharp and talented executive from that company.  I started out as part of the Open Innovation Latin America group and was able to meet a good number of startups throughout Latin America.  I've certainly been delighted to work within this new division of the company focused on digital innovation.
A year ago, upon learning that I would be transitioning to the New Digital Business unit and that I could propose a Fintech focus of my choosing (to be decided upon mutually with my boss), I analyzed areas such as lending, investment advisory, among others.  Nonetheless, there was one area that appealed greatly to me and that I felt was the best fit between the strengths of the traditional bank (e.g., large scale business) and the digital space, particularly, in Latin America: that area was digital payments.
My new boss, who had valuable prior experience creating a new digital business and working within a multinational M&A group, had already developed a solid strategy that we were to pursue within the payments space.   Fortunately for me, he created a very open working environment where different opinions were welcome.  This was key, especially when it came to deciding on the company that had the best potential fit with what we were trying to accomplish.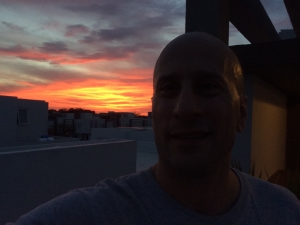 There were other acquisition choices. Nonetheless, having met the Openpay founders a few months earlier, I had been impressed by their love of building top-notch products and their experience and believed strongly that they were the best fit.  After some trips to the company's headquarters in Queretaro, I shared my findings with my boss and we were off to the races.

 (See photo on the right: Sunset in Queretaro during my first visit almost a year ago).
With respect to acquisitions in general, I believe a big win for corporations is the possibility to work closely with talented startup founders. With respect to Openpay itself, I'll quote the press release which states that the company's PCI-certified product "combines a cutting-edge, real-time platform that allows users to make card, cash and loyalty-points payments and bank transfers."
Interestingly, I actually believe that more advanced technology (not less advanced) is required in order to solve Latin America's unique payments (and other) challenges.  This includes the requirements of local merchants as well as international merchants (e.g., US-based companies looking to monetize Latin America).  Fortunately, Openpay's products take this perspective to heart and this is attested to by the growing list of companies that call themselves customers and depend on the company's technology. (see photo below: another great visit with the founders of Openpay!).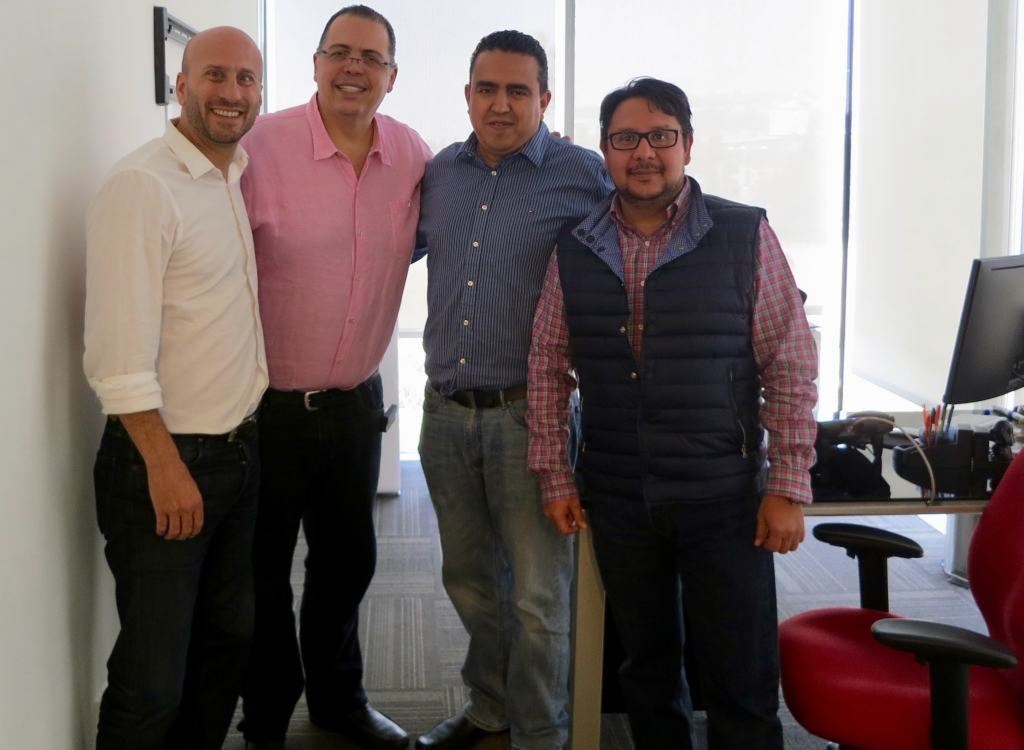 There are still a lot of challenges to overcome in order to realize the full potential of the Openpay acquisition (we're just beginning the journey). Though I'm not an objective observer, I'm confident that BBVA will do a great job with this acquisition in the years ahead.
On a more general note, acquisitions are, indeed, but one tool to be employed in a company's goal to get in front of the accelerated changes engendered by digital innovation.  Transitioning the organizational culture as well as developing, executing and communicating an inspiring, coherent vision are probably more important components of digital transformation.  Hence, a lot of companies have some interesting times ahead of them and professionals, such as myself, that thrive at tackling such challenges, have lots of interesting work ahead of us.
A word about the Mexican startup ecosystem
As this blog has positioned itself, more and more people from outside the region have reached out to me (apologies for my slow response times, lately).  A common question is how the different countries in the region stack up from a startup perspective.  Because Openpay is from Mexico, I feel a few more words about that country are in order.
A while back, I wrote about my impressions of the startup ecosystems of different countries and about the talented founders Mexico now houses. However, in the context of this acquisition, I'd like to add a few more words about the Mexican ecosystem in general within the context of the rest of Latin America.
I am astonished by the incredible progress achieved by Mexico in building a stronger ecosystem and, in particular, a stronger Venture Capital industry.  Fortunately, during this trip to Mexico, I had the opportunity to sit down and have a great talk with a couple of VCs.  As I have written, I've always felt (and continue to believe) that the Southern Cone is home to the strongest startup engine in the region.  This includes principally Brazil (large local startups) and Argentina (regional and global startups). Nonetheless, Mexico is home to more and more interesting startups and, in my case, all of the Colombian startups that I advise are generating revenue in Mexico and connecting to the ecosystem here.
With respect to exits (acquisitions or the rare IPO), I believe more are to come in Mexico and Latin America.  I don't think that big companies within the financial or other industries, yet, realize the opportunity to accelerate their digital transformation efforts by acquiring startups.  Obviously, this route is not a slam dunk since there are actions (internal and external) that need to be taken in order to improve the chances that such an M&A strategy will achieve the desired results, but the opportunity exists nonetheless.  Time will tell whether other big corporations in the region take advantage of this unique set of circumstances.
Conclusion:
Every day, more and more entrepreneurs are launching startups in Latin America.  The number of quality businesses is still small, but increasing every day.  A new "traditional" business environment with digital at its center is creating an earthquake of change for those companies unable to adapt their business models.  As I've written before, more and more, startups in Latin America are at the forefront of this change.
It is my belief that the massive change impacting "traditional" business is accelerating.  This change is driven, principally, by digital technology, but is also affecting other areas (e.g., economic, social, political, etc.).   Some corporations, like BBVA, are trying to adapt, but, as time rolls by, other corporations that are late to the game will increasingly resort to "Hail Mary" strategies as their business results degrade.
By then, unfortunately, it's usually too late.  The interesting thing about this point in time is that there are no formulas or 5-point programs that ensure success.  I firmly believe that without executives who possess the understanding and judgment to navigate this new business environment, it's virtually impossible to come out on top.  For corporations, it's essential to have professionals who are comfortable with and understand how to create value in this new digital world. These executives also need to be competent managers and, hopefully, inspiring leaders. Finding professionals with these characteristics is challenging, to say the least.
Because of their size, a startup's road is challenging, but much more focused (e.g., sans legacy technology, businesses, etc.).  In Latin America, there's a new generation of startup founders that have a growing list of local role models (e.g., successful serial entrepreneurs such as the Openpay founders).  Also, in some cases, they themselves are much better prepared (e.g., YCombinator grads, etc.) than their predecessors.  While I, personally, have decided to interact with a much smaller subset of startup founders these days (companies that I advise), I'm extremely positive about what is to come (more so today than in the past seven years working with startups in the region) thanks to the impressive quality of these founders.
Colombia Founder Institute – Alan Colmenares from Founder Institute on Vimeo.