TropicalGringo Portfolio continues to ROCK as 2017 rolls in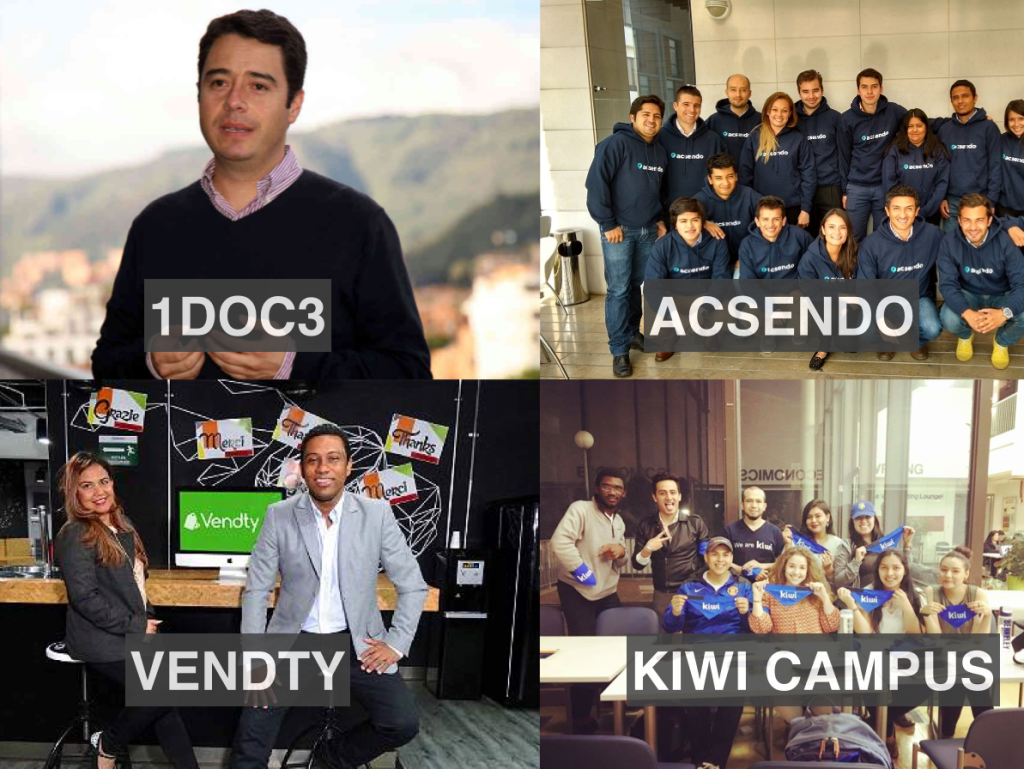 I can't believe we've reached the end of the year already. It's either that I've had too much fun this year or that I'm getting older; I'll choose to kid myself and think that it's the former.  My work within BBVA's New Digital Business unit has been incredibly rewarding this year.  Besides working on an important deal with some incredible startup founders, I've met startups in Mexico, Brazil, Argentina and Chile.
Fortunately, during some moments of downtime (e.g., at night, etc.), I reap tremendous satisfaction from being an Advisor and shareholder of four awesome startups that each have exciting news (e.g., one closed a Series A round of funding and all are growing internationally with one of these launching in UC Berkeley): 1Doc3, Vendty, Acsendo and Kiwi Campus (I maintain close contact with a fifth one, Tappsi, that already had an exit). As readers of this blog know, I presumptuously call this group of startups the TropicalGringo Portfolio.
I say it's presumptuous because instead of investing money which, hopefully, some day (personal finances permitting), I'll be able to do, I ask for shares in these companies in return for my being their Advisor.  I've grown to embrace this fact instead of lamenting it.  When I can, I try to connect these founders with experts (usually, successful founders) and investors, offer a different perspective on key decisions and generally provide an independent voice in potential blind spots (e.g., pricing opportunities, team and organization building at each stage, investor communication, etc.).
The fact is that I learn just as much (or more) from them as they do from me (please don't tell them) by listening since I'm able to observe them and share some key moments with them.  Aside from the excitement of being a small part of the each company's and founder's growth, the ability to observe the outcomes of some critical decisions is an incomparable learning experience for me.
There's been a lot of progress since my last TropicalGringo Portfolio update in May and all are growing very well with two of these at the seed stage and two at the growth stage; they are Vendty, Acsendo, 1Doc3  and Kiwi Campus.  Without further adieu, here is how the TropicalGringo Portfolio closed out 2016.
Kiwi Campus (seed stage – platform that builds communities that work) – In the last months, Felipe Chavez (second from the left back row), CEO, and his co-founders, Sergio Pachon and Yeisson Oviedo have been building their initial business by growing on-demand deliveries between university students throughout Latin America (Colombia, Chile and Mexico).
Now, they are growing in U.C. Berkeley in the heart of Silicon Valley.   After testing their product and service in a number of universities in Latin America with a growing stable of students ordering and delivering in each college, they decided to think big and launch in the U.S.  It is an exciting time for the company as they focus on their first offering (on-demand food at universities with students handling the deliveries).
Though they are focusing on offering a great experience with deliveries, they see a broader opportunity.  They are still talking with their student customers as well as their student delivery people (called Kiwiers), but they have already observed that a big draw for students registering with Kiwi Campus is the potential to improve their college experience (e.g., meet and interact with new people, get involved with a startup, etc.).
This is an interesting space with some untapped opportunities.  Felipe has done a great job of buiding a growing team and, along with his cofounders, making sure the product and the service enable them to offer an excellent customer experience.  On the product front, they already have some US developers working as a team with Colombian developers.  Felipe is planning to close an investment round next year in Silicon Valley in order to, among other things, hire additional US and Colombian developers.
Vendty (seed stage – SaaS POS solution) – Co-founders, Arnulfo Ospina (CEO) and Roxanna Vergara continue growing their customer list, already greater than 300.  They now boast customers from different countries and have started to look at increasing sales in Mexico through partnerships.  It's such a pleasure to be involved with them and watching them launch and build a SaaS startup with tons of potential (POS).
Some of the most innovative retailers (e.g., a unique pet shop, a YCombinator grad with an innovative food cart, etc.) use Vendty's Point of Sale SaaS solution after testing a number of their international and national competitors.  Though there are SaaS POS solutions from well-funded foreign companies, customers continue to choose Vendty because it boasts the high-quality standards of these international competitors while offering important localizations as well as a fanatical attention to its customers and their success.
Incredibly, they achieved break-even a while ago and, after a funding round from Wayra, they have been financing their growth 100% from revenues.  They are patiently building up their recurring revenue stream and adding new customers as they expand geographically. Though an additional funding round would help accelerate growth, they'd rather focus their energies right now on growing the business.
They have an accelerated growth plan that will be executed when the time is right to close a round. They have been honing their SaaS sales engine and see a lot of potential strategic partnerships.  Closing a round right now would be great, but I personally think that the aforementioned strategy jives well with the funding environment in Latin America and, particularly, in Colombia.  Also, as they grow their regional sales, especially in Mexico, I believe that there's a good chance investor interest would be piqued there (Chile is another possibility) sooner than in Colombia, especially as their Monthly Recurring Revenue (MRR) goes higher.
Acsendo (growth stage – SaaS HR solution) – Carlos Santana (fourth from the left, front row), CEO, has grown Acsendo into SaaS powerhouse throughout Latin America and built an HR product that could compete with any midmarket startup in the U.S.  Though it hasn't been formally announced, he recently closed a soon-to-be-announced round of series A funding in order to accelerate the already fast geographic expansion and build out his team during the next 18 months.
Carlos already has a sales presence in Mexico and has closed deals there, in Chile and Colombia, among other countries. He's added some key hires to the team in Colombia and Mexico to complement a team that already spans Colombia and Portugal. Acsendo boasts a solid product and robust sales engine to drive growth, while also ensuring that its more hundreds of customers continue to get the most out of his product.
The transition to SaaS software is in full swing around the globe.  Though Brazil boasts some interesting players, there are very few SaaS startups that span all of Latin America (at least, the Spanish-speaking part).  Acsendo and Vendty will be strong regional players.
Carlos is a strong CEO who successfully made the transition from the corporate world to the startup world.  More than a year ago, he had closed a seed round that has funded his growth up till now.  This new round will allow him to continue building a solid team and a world-class product and there are a number of options available to him as he looks to the future to create a huge, successful company.
1Doc3  (growth stage medical Q&A platform) – Javier Cardona, CEO, has been super busy since the last update when I reported that Mark Zuckerberg, Facebook CEO, highlighted them during the annual company F8 Conference.  I met Javier about two years ago when he and his team were just building and getting ready to launch their product.  Back then, his was one of the startups being accelerated by Wayra, a local accelerator where I used to get good "deal flow" and where I also met Vendty.
In those early days, I still remember my conversation with one of the handful of local funds and insisting that he take a more serious look at 1Doc3, but to no avail.  Other experts, also, saw little to get excited about. Whereas, even though things were still raw, I saw all the ingredients that I look for: strong, experienced team with sharp CEO, ability to execute and attacking a huge problem.
Today, only a year later, it's a different story as they have shown much more visible progress (through results and press mentions) that makes their growth potential much more obvious.   Since my last update in May, Javier and the 1Doc3 team continue to close deals with Pharma, government agencies and insurers looking to connect with patients and others through a trusted digital platform in Mexico and Colombia. In October, the company closed a strategic deal with one of Mexico's top insurers called AXA Seguros.
Javier is a very focused and practical founder/CEO who has more deals in the pipeline. Nonetheless, he is cognizant of the incredibly huge opportunity ahead of him.  For this reason, he is also intent on building out a solid product and strong team in preparation for a future of even more accelerated growth and expansion.