TropicalGringo Portfolio Update 2015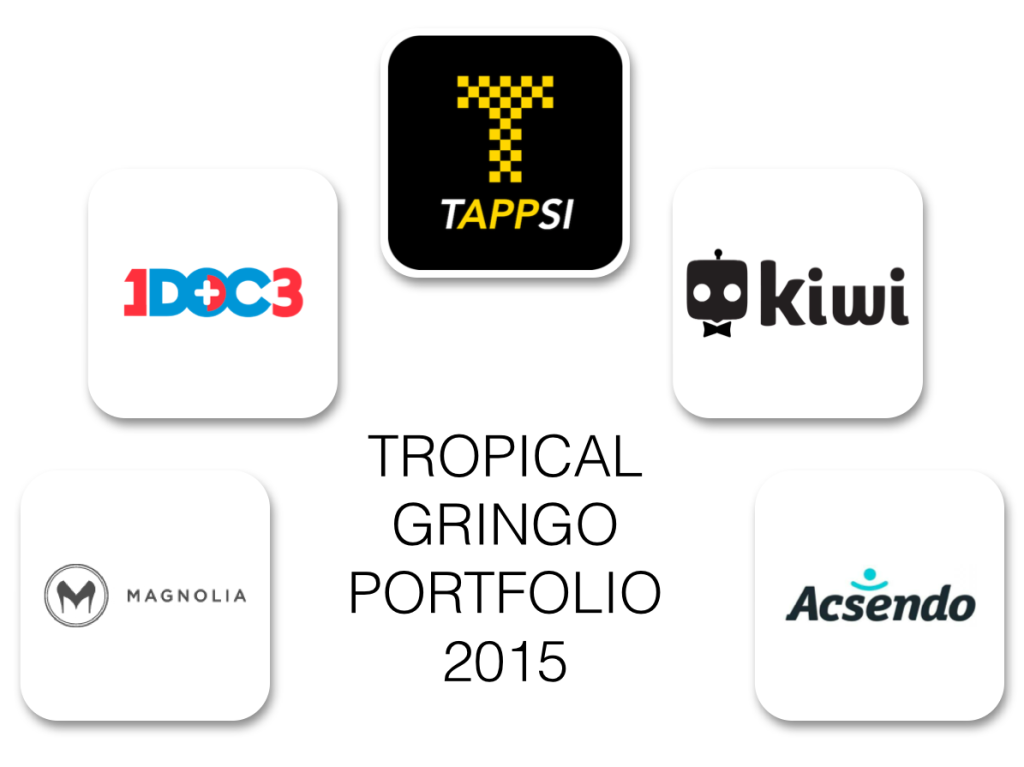 Well it's the end of the year and it probably makes sense to talk about the last year.  So as not to be so broad, I decided to focus on the companies that I advise.  I am an advisor to and shareholder in five startups.  I, presumptuously, call this group of companies, my "portfolio."  Obviously, I'm bullish on each and every one of them.  Fortunately, all five have plenty of runway (funds) left for the foreseeable future and I expect them to continue increasing in value.
One of the startups (Magnolia) is based out of Peru (although it is regional) and the others are headquartered in Colombia.  Some of these companies are much more well-known and several have already gone on to close a seed round.  When I began working with them, they either only consisted of the founders (Tappsi and Kiwi) or only had a few people working for them (1Doc3, Acsendo and Magnolia).  Identifying talent (especially in startup founders) early on is a very difficult thing to do and, in Latin America, it's even tougher.
I've only occasionally written about them, but wanted to write a complete post about them all as a group and will continue to provide updates as time goes on. The founders of these startups are extremely talented because building a startup in Latin America entails overcoming tremendous local friction while still thinking big.  I like to think that I can identify these types of founders when they are under practically everybody else's radar since this is an important talent for building a successful early stage fund. Also, it's just a lot of fun and I learn so much from each of these founders (regardless of the fact that they may say the inverse). 😃
Obviously, I'm biased, but I am incredibly proud of my portfolio and would stack it up against any small early stage fund in the region.  Aside from my betting on these founders as people, I also like to view this as a good proxy for the type of companies that I would invest in if I had a fund.  If one of these companies achieves a substantial enough exit, the hypothetical fund would end up providing a substantial return to investors (LPs).  I actually believe that more than one of these startups will exit at an excellent valuation (not Unicorn-level, but something that would have been extremely profitable for a seed fund).
Without further adieu, what follow is a type of status report on The TropicalGringo Portfolio for 2015:
TAPPSI – It seems like yesterday that I bumped into Juan Salcedo, CEO of Tappsi, at an event where he told me that he had come up with an interesting mobile app for hailing cabs.  I wish that I could say that I knew instantly that this would be a success, but, though I listened to Juan when he mentioned this, I must say that I did not grasp the immediate potential of this app.  The next month, at another, similar event, Juan mentioned that the number of users who downloaded the app had grown substantially.  Nonetheless, it was only a month after that, after hearing the new larger number of downloads, that I told Juan that it would be great to sit down for coffee.
During that first coffee, Juan introduced me to his co-founder, Andres, but, to my surprise, they were much more interested in talking about their other startup called Cotiza, an SMB supplier marketplace.  During that first meeting, as usual, I was pretty blunt.

 I told them that I did not want to hear anything ever about Cotiza and to talk to me about Tappsi (I can be pretty direct to which my few friends can attest).  Furthermore, I said that they should shut down Cotiza immediately and focus all of their energy on Tappsi. After a number of months, they heeded this advice and focus all of their substantial entrepreneurial talents on building Tappsi into the company it is today.
Today, Tappsi is one of the leading startups in Colombia with thousands of taxi drivers paying a monthly subscription and hundreds of thousands of users as well as many corporate customers.  The founders are, rightly, viewed as the type of entrepreneurs that others aspire to become.  I had the honor of working for a year as their Executive Vice President in charge of a number of special projects (e.g., fortifying the company culture, running corporate sales, launching new ventures, etc.).  Even more impressive is the fact that they have been able to maintain their leadership position in Bogota with well-financed competitors such as Uber growing in their home market.
They are tenacious and talented entrepreneurs and continue to strengthen the business and build a strong company in the process.  It's been quite a ride with Andres and Juan and it's been quite a rewarding learning experience for all of us.
1DOC3 – Ever since Telefonica's accelerator called Wayra was created in Colombia five years ago, I've been asked to be a mentor to some of the startups that pass through it's doors.  Last year there were a number of solid companies that went through the company's program, at least three of which closed substantial funding rounds.  Nonetheless, there was one company that really caught my eye thanks to the defensibility of the business that they were building and the quality of their founders and that was 1Doc3, a health Q&A site with answers provided by real physicians.  Javier Cardona, the CEO, and his team had an enviable ability to execute.
They proceeded to build their user base to the hundreds of thousands while focusing on a B2B revenue stream from large institutions interested in measurable promotion and prevention programs. We recently had an amazing dinner with the founders and all eight employees to celebrate some key wins and talk about the company's future as well as everyone's motivations for contributing to the company's goals.
The company is already generating revenue and has a strong alliance with Facebook's Internet.org business unit, which has been helping the company enter new countries.  This company is below everyone's radar (although some investors have become more intrigued lately) even though they have been constructing an incredibly differentiated and defensible business model in plain sight.  Fortunately, thanks to the aforementioned deals (and more to come) they have a luxury (substantial runway without funding) that many startups in Latin America don't have of focusing on continuing to build their business and organization in preparation for an incredibly promising future.
KIWI – Ever since I saw their team video upon applying to an accelerator that I was running about three years back, I felt there was something special about the co-founders of Kiwi, Felipe Chavez and (Javier) Santiago Lozano.  Since then, we've had excellent (and fun) get-togethers while talking about their business.  More than two years back, they mentioned that they were pivoting and building an on-demand grocery delivery business (then called "Lulo") and I signed on to become an Advisor and Shareholder (their company is set up in Delaware).
Today, they've assembled a group of motivated and talented operations and development people and have pivoted and are building a chat-based application that can rapidly deliver products and services as well as information.   They are very product-focused and are working to automate many of the tasks that they have, heretofore, accomplished manually.  Thanks to generating revenue from the get-go along with some funds from family and friends, they have been able to focus on building out the product in order to more easily integrate back-end services (e.g., Uber and other delivery services).  Towards the future they plan on taking advantage of more mature AI and other technologies that will enhance the user experience even more.
Though they are testing their product out in Colombia, Felipe and Santiago have much higher ambitions and don't rule out launching outside of Latin America some day.  They know that with higher ambitions come higher risks, but they wouldn't have it any other way.  Regardless of global competitors such as Magic and GoButler, they are determined to build a world-class product and carve out a place for themselves in this market.
Indeed, they believe that the way the Internet works is changing in fundamental ways and that many processes that are, today, completely manual (each user downloading an app for every function) will become much more automated. We're talking about a whole other layer on top of the Internet for which players such as Google and Apple are already preparing.
MAGNOLIA – – Building a fashion retail brand in Latin America is something that I tried to do and at which I failed spectacularly.  Hence, I was incredibly impressed when I met Alvaro de la Fuente a number of years ago and he had been able to accomplish many times better results than I had in half the time.  More than two years ago, I became an Advisor and shareholder in the company.
Since then, Alvaro, with help from his co-founder, Arturo, has built Magnolia into a mulit-country fashion retail brand providing Latin American fashionistas with great deals on imported products.  Magnolia is able to sell without holding any inventory thanks to a smooth logistics process for importing goods to Latin American countries.  What makes this all the more impressive in my book is that Alvaro has accomplished this with only some Angel investment rounds.
Ecommerce is hard and ecommerce in Latin America is even harder.  Nonetheless, because it's so nascent, it's also a big opportunity.  Instead of going the route of Rocket Internet companies such as Dafiti and Linio, which were launched with millions of dollars in investment and have closed rounds of many millions more,  Magnolia has been built in a much more cautious way making money as it goes along.  Instead of launching with millions of dollars in the bank, Magnolia has been launched on a much tighter budget, but has built a business model and a Latin American footprint, which, with some additional investment, can become an extremely well-positioned retailer in Latin America.
ACSENDO – – I became involved with Acsendo and met its CEO, Carlos Santana, several years back through one of his angel investors and immediately saw how passionate and dedicated he was about his startup.  Acsendo is an HR software company in the cloud with a growing list of corporate customers throughout Latin America and a steadily improving product.
Though my interaction with Carlos and Acsendo has waned lately, when I was intensely involved, I was adamant about improving the product, particularly in UX.  Also, I was insistent on building Acsendo's marketing strategy around the specific vertical they were targeting (e.g., HR articles and white papers, etc.)  as well as focusing on improving sales processes. Since then, I extremely happy to say, Carlos has become a master at all of this and has executed brilliantly.  During the past year, they closed round of investment from a local VC which has enabled Carlos to hire a much bigger team and position the company for more success.
Just as impressive to me has been the fact that Acsendo was launched for a number of years running on funds from local angel investors.  Software-as-a-Service (SaaS) companies usually require a lot of runway before generating revenue and, for this reason, many are started with millions of dollars in VC investment.  That's what makes it so impressive that a group of angel investors in Colombia were able to fund a SaaS company with strong growth and even more potential.  Colombia and other countries in the region need more angel investors such as these.
Conclusion: So that's it.  I'm really proud to say that I'm involved with these founders and these companies.  As I wrote above, I am bullish on all of these companies and am confident that more than one of these will continue to grow and have a notable exit. More importantly, though, these founders are (and will continue to be) excellent role models for up and coming founders just now getting started in Colombia (in addition to the founders from my Snapshot 2015 Initiative).   😃