These top startup CEOs from Colombia have created over $250M in shareholder value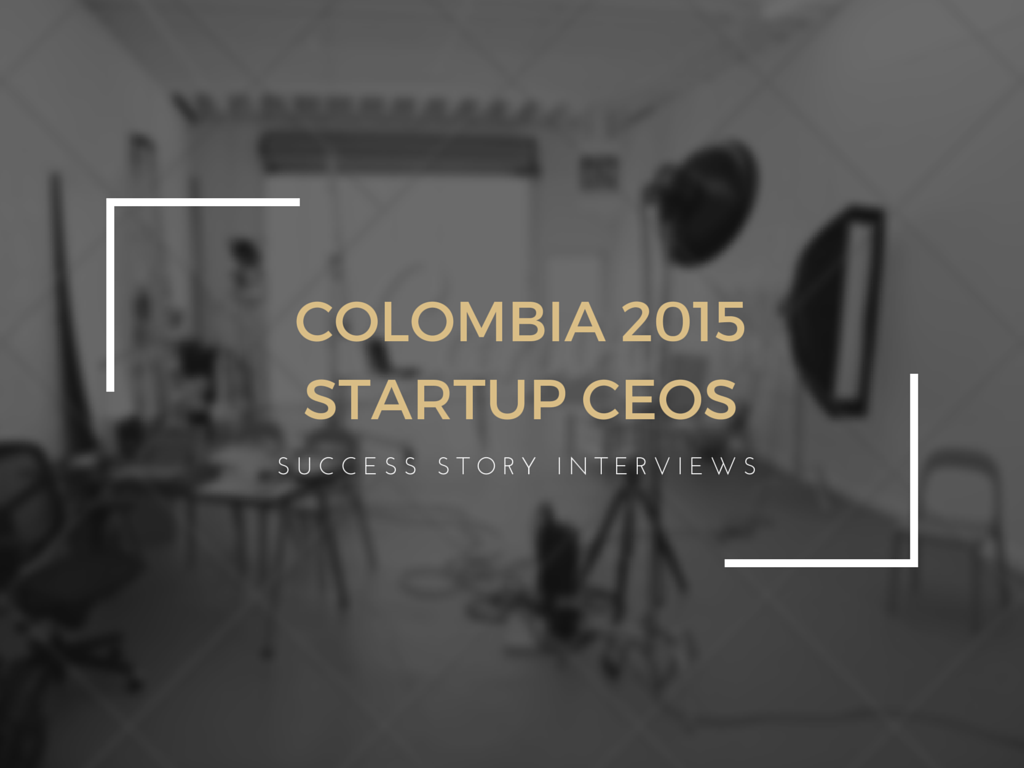 Note: I updated this post with the actual interviews. It goes without saying that I'm extremely proud of being able to interview these 5 awesome entreprenuers in order to provide a great 2015 snapshot of some of the country's top CEO/founders at this point time (think of it as a time capsule). These guys have easily created over $250M in shareholder value up to now.  If you're from other countries, this will give you a sense of the talent of top Colombian entreprenuers. If you live here, it's a shame you didn't attend these interviews (we had low attendance) and take advantage of meeting and talking with these incredibly open founders, but watch the videos and learn a ton!
A couple months ago, I had the pleasure of meeting Claus Rosenberg, a serial entrepreneur from Denmark, thanks to a friend named Juan Velez. During our meeting, he made a very persuasive case for why I should become Director of Startup Grind in Bogota.  Long story, short, I agreed because I see this as an opportunity to take a snapshot in 2015 of the top Startup CEOs from Colombia through a series of YouTube video interviews.
As I've written before, it's become harder and harder to sacrifice family time and take on extra initiatives such as these.  Also, although some may find it hard to believe, I just don't really enjoy the spotlight in Colombia anymore.   The only thing that drives me to do these types of things is the fact that I really see a big impact resulting from this initiative.  Also,  I just really admire talented entrepreneurs and enjoy talking with them.
One great result I foresee from these interviews is an historical record of 2015 of the top CEO success stories that have big potential to impact Colombia in the future by serving as role models for new entrepreneurs.  Secondly, since I will be conducting the interviews in English, many potential international investors and other important players can get a feel for the quality of founders that they can find in Colombia.  If only one sophisticated investor from Silicon Valley or some other locale sets up shop in Colombia due, in part, to watching one of these videos, the impact to the ecosystem will be enormous making this small extra effort on my part, worthwhile.
International startup exposure has always been something that I've seen lacking from Colombia on a general scale (some startups have been good at this).  In the past, I've tried to help out with my writing in international publications.  More than five years ago, I wrote about Colombian entrepreneurs and about entrepreneurs in Colombia in publications such as the New York Times.
For instance,  in addition to writing about the few funding events at the time (e.g. Brainz), I also wrote about activities happening in all of Latin America at the time.  These also included an article I wrote in VentureBeat about a new startup by a Colombian called Alexander Torrenegra that was struggling to get off the ground.  One of the articles that was the closest storyline to the current initiative was an article I wrote, also for VentureBeat, about Colombian entrepreneurs (with a Monty Python-ish title) including Juan Calle and Jose Velez, two CEOs whom I'll be interviewing.
Today, fortunately, many more articles are being written about Colombian and Latin American entrepreneurs.  Nonetheless, I do feel that there are certain Colombian startup CEOs that are not as well-known to local entrepreneurs nor to international audiences and I plan to rectify this.   Once these interviews are "in the can", my plan is to wind down these types of activities (e.g., accelerators, interviews, etc.) and focus on my day job and, especially, family and, hence, the mantle will gladly be passed to another.

There are many more successful startup CEOs from Colombia than there were before and they are all admirable.  Nonetheless, the CEOs that I have selected (and they have graciously accepted) have created and are creating a ton of impact.  These CEOs, think big, have worked with international institutional investors, have co-founders and  have built or are building high-performance organizations.  Some of these have even sold their companies for sums as high as US $100 million.
Without further adieu, the snapshot that I will be "taking" for 2015 of successful Colombian startup CEOs includes the following awesome interviews (watch them on StartupGrind):
 Juan Salcedo – CEO Tappsi – Leading Taxi-hailing app in Colombia  – June 16, 2015.   (DISCLOSURE: I am an advisor and shareholder of Tappsi and previously worked at this startup as an Executive Vice President)  Juan Salcedo, Tappsi Co-founder, learned to code at age 10, and, since then, technology and product development has been a passion. He has worked with a number of Internet startups, especially with online marketplaces for more than 15 years working mainly in product and business development/marketing in Colombia, USA and Canada. Industrial Engineer with a Master's degree in Business Administration. Extensive management experience in technology companies, including design and project management for information systems development, software, e-business and Internet.  NOTE: Tappsi had an exit with their recently announced merger with Easy Taxi.
Juan Franco – CEO Paymentez – Latin American payments company – July 14, 2015.  Juan Franco was the CEO and co-founder of Mentez, the largest online gaming publisher in Latin America with 42 million downloads.   Under his leadership, the company became the leader in its space in Brazil.   Mentez was sold to a NYC Private Equity firm in one of the largest transactions in the region.  Later, the founding team, with Juan once again as CEO, launched Paymentez, the monetization leader in Latam for virtual content with a presence in 5 countries and a focus on monetizing marketplace applications.
 Jose Velez – CEO PayU Latam – Regional payments company with leadership in Colombia – August 17, 2015.  José Fernando Vélez is co-founder and CEO of PayU Latam, the leading payment services provider in Colombia. PayU currently has more than 100 employees. Jose studied Economics and afterwards did a Masters Degree in Computer Science. He started to program at age 14 and since then has always dreamed of becoming a successful internet/IT entrepreneur. He considers himself a strategist and an obsessive executor with in-depth knowledge of the inner workings of the different products/services his company sells.
Freddy Vega – CEO Platzi – Global elearning platform and YCombinator grad – September 16, 2015. Freddy Vega is CEO and co-founder of Platzi, a fast-growing e-learning platform with an impressive 70% completion rate by students who take the company's courses.  At the age of 16, he created a community called Cristalab, which, six years later, became the largest community of developers in Latin America. At this point, he merged his community with that of his co-founder, Christian Van Der Henst, and created Mejorando.la, a community with an educational offering.  With this growing community a new technology platform for streaming live classes with tools for engaging the audience, Freddy co-founded Platzi in 2013.  After graduating from the Winter 2015 class of YCombinator and continuing it's growth track, the company is setting it's sights on a global marketplace.
UPDATE (Jan 8, 2016) – Platzi just announced that it closed a $2.1M round of funding. 
Juan Calle – CEO POP and former CEO .CO Internet – Pop is a global startup offering online presence to businesses – November 10, 2015.   Juan Diego Calle is a Colombian-American serial startup entrepreneur: He is best known as the founder and CEO of .CO Internet SAS, a company acquired by Neustar, Inc. in April of 2014 for over $100M. Prior to that, while at the University of Miami, he launched and ran TeRespondo.com, a performance-based advertising network, which he sold to Yahoo in 2005. As Chairman of STRAAT, a company builder based in Miami, Florida, Juan Diego co-founded Building.co, a collaborative work space for growing tech companies, Classic.com, a classic car restoration business, POP.co, a platform designed to help entrepreneurs and businesses get online, and BoutiqueHotels.com a hand-curated list of boutique hotels around the world. He's an alumni of the Harvard Business School OPM program.