Latin American Payments Are Easier Than Ever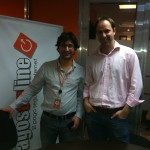 Yesterday, during a rainy afternoon in Bogotá, I interviewed the co-founders of Latin American Payments, Jose Velez and Martin Schrimpff, which offers a robust payments platform, anti-fraud system and payments collection all designed specifically for the needs of the Latin American market.  The company is PCI certified, have won international prizes for their platform and are already working with clients such as Sony, Amway, Harvard Business Review and Telefonica and are starting to speak with international retailers, gaming companies and travel players among others.
Latin American Payments is a division of PagosOnline, a Colombian start-up with almost 100 employees which counts Buscapé, the large Brazilian comparison shopping site, as it's majority shareholder (75%).  As many know, the South African investment firm, Naspers, bought almost all of Buscapé's shares for well over US $300M a couple of years back and is busy building it into a Latin American powerhouse (along with it's satellite companies).
As the pictures below show, there's quite a bit of hustle and bustle going on right now at Latin American Payments.  Jose and Martin are busy complementing an impressive team of developers and business people from top banks and international credit card companies as they go after a Latin American e-commerce market that is surging almost 40% annually to $21.8B.
It might seem strange to offer a Latin American solution from Colombia instead of Mexico or Brazil.  Nevertheless, it makes more sense if you consider that, unfortunately, Colombia is one of the most challenging regions for combating credit card and ATM fraud in the world.  Several years back, I was talking to a local bank executive who told me that ATM machine makers had to continually innovate in Colombia (some of these innovations found their way into the entire product line) because of the "creativity" with which some Colombians would try to "beat the system."
Those Colombians are the bane of resourceful and entrepreneurial Colombians like the people at Latin American Payments who are using their ingenuity and hard work to make sure their clients are protected from losses.  Incredibly, as happens all around the world, when you are challenged to survive (and thrive) in such hostile circumstances, you come out stronger.  That's one of the reasons that Jose and Martin are so confident about the future.
Nonetheless, there are competitors.  Paypal is working to penetrate the market further and local competitors are also developing their own solutions and expand to other countries.  Jose and Martin are conscious of this, but believe that 8 years of experience, constant investment in their platform and the ability of clients to collect payments from customers in a variety of ways (overcoming the low credit card penetration in the region) are key assets.
The final asset, they believe, which gives them an edge is the entrepreneurial environment they've fomented and the impressive team of young, knowledgeable collaborators they are assembling with the necessary chops to execute on the vision.  Finally, (and for disclosure purposes), I the company its sponsorship of the Founder Institute in Colombia (for which I am the director).
Latin American Payments from Tropical Gringo on Vimeo.