Colaborado con el Guru de CRM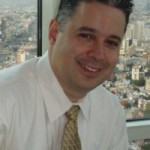 Desde hace uno dias, un gran amigo y profesional que admiro, Jesús Hoyos, me invito a colaborar en su blog sobre CRM en América Latina lo cual me honra inmensamente.  Comencé con un articulo sobre mirar todas sus opciones cuando lanzando una estrategia de CRM, pero estaré aportando mas artículos de diversos temas enfocados a mi area que es el mercadeo (y ventas) por Internet.
Entre otra cosas, estare aportando posts relacionados con las entrevistas de autores como Denise Shiffman (The Art of Engage), Frances Cairncross (The Company of the Future)  y Jeff Eisenberg (Call to Action). Adicionalmente, incluiré temas relacionados con mis entrevistas con CEOs como Chris Cabrera de Xactly Corporation y Joe Payne de Eloqua.  Es increíblemente enriquecedor hablar con estos expertos y personas exitosas y es aun mas satisfactorio poder compartir con ustedes las enseñanzas de dichas interacciones.  Es mi esperanza que, dentro de dicho proceso, llegaran comentarios y preguntas de ustedes los cuales seran el real catalizador para mi aprendizaje.
Regresando a Jesús, lo conocí unos años atras y pude observar su trabajo como Consultor de CRM y fue realmente impresionante como nuestro cliente (un banco grande en Colombia) respondía tan positivamente a las interacciones con el.  Esto se debía no solo a la profundidad de su conocimiento y la claridad de comunciacion del mismo sino también por ese ingrediente humano tan clave en cualquier trabajo con clientes.  Fuera de todo esto, es un apasionado por el tema de CRM y recomiendo altamente su blog.