Open Innovation and the Cloud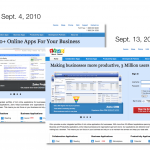 At the conferences where I speak, when I talk about Cloud Computing and the Software-as-a-Service (SaaS) model, one of my premises is that this new paradigm requires new competencies. More than ever, companies offering Software-as-a-Service need to be true to the "service" component and be responsive to customer requests.
Upon hearing this, many companies immediately think of customer service, which is indeed important.  Nonetheless, many customers and non-customers offer suggestions that could or could not be of value to such organizations.  Companies that hear their customers are also open so something called "open innovation" whereby innovations can come (in part or in whole) from outside the company's boundaries.
In terms of suggestions, one example revolves around the team at Zoho, a SaaS provider. As can be seen by the image at the top of this post the company made a slight change to its headline statement at the top of its web site between September 4th and the 13th of this year.  About a year ago, I had the pleasure of interviewing the company's founder and CEO, Sridhar Vembu and must admit I was quite impressed by his vision and intelligence.  At that time, the company web site was little more than a listing of all their applications.
I asked Sridhar if they were thinking of revamping their messaging to focus on customer benefits and improve the general design of the site.  He said they were and a couple of weeks ago, I stumbled upon the new site, which, in my mind, is an improvement.  Nonetheless, in my email congratulating them on the new site, I did mention that it might be a good idea to include two messages: 1) Who Zoho makes companies more productive and 2) the millions of users they have.  See my email below.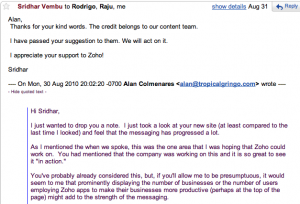 It says a lot that a few days later, they had taken action on these suggestions (from outside of their company) and implemented them.  It was certainly possible that the suggestion would not have been implemented, but it is apparent that they take these suggestions seriously and are open to anything that helps them improve. This is a great lesson in whatever name you'd want to put on this (e.g., open collaboration, open innovation, etc.) for other SaaS providers and highlights the type of open company culture that such companies would do well to embrace.