Musings After My Conference on Cloud Computing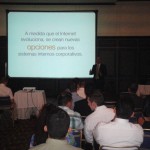 It's been more than a month since my series of conferences on Cloud Computing at Microsoft's Live events in Medellin, Cali and Bogota, Colombia.  During the past few weeks, I've been able to do more reconnoissance of the market's readiness for these offerings. What I've found is that there are very few local ISVs with Software-as-a-Service (SaaS) offerings, but quite a few players are offering open source and other third party software hosted on the cloud.
Additionally, from my own clients (software companies) and others, I've seen keen interest in developing new offerings leveraging the cloud. Nevertheless, there are many options and much confusion as to how to proceed.  Developing a solid SaaS solution takes a lot more than simply hosting on the cloud and that is where the true opportunity to differentiate your software company lay.
This is going to be quite an interesting year and I am going to have the opportunity to help my current clients and some new ones that should be hiring me soon.  My objective is to have each client understand the power of a SaaS offering and to set a clear objective for the same.