Movers and Shakers: Santiago Pinto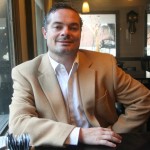 I just got off the phone with Santiago Pinto, an extremely sharp entrepreneur/angel investor from Argentina.  A few years ago, he got to talking with Smowtion, a global ad network with a speciality for recruiting quality niche publishers, co-founder and CEO Andrés Alterini and decided to invest US $500k in the company.  Within the last year (when I last spoke with Santiago), they've not only tripled the number of publishers (more than 100k) that they work with, but have also become an "Endeavor company."
Santiago is a veteran of the Internet business having previously co-founded and sold companies such as Gauchonet and Bumeran in Latin America. After spending any bit of time with Santiago, it's obvious that this is a man who gets things done and surrounds himself with people just like him.
There are thousands of reasons you could theoretically give for why an Argentinean company shouldn't be able to penetrate such a competitive market (their biggest market segment is in the US).  Nevertheless, Santiago doesn't seem to have much time for theories; he and his colleagues prefer action.
I'm sure we'll all be hearing a lot more about Santiago and any company he's involved with and that's why he's a mover and shaker and someone to watch.