Movers and Shakers: Marco Vanossi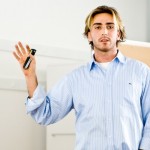 Thanks to blogging, I'm able to meet some incredible human beings.  In some cases, such as with Marco Vanossi, founder of Sao Paulo-based mobile visual search engine, Pe2, it's still only through digital channels, but the impression I have is outstanding. He's got youth (20's), intelligence (interesting IP developed by him), persistence (more on that later) and the human touch (as so many Brazilians do).  Come to think of it, I think I hate him.  Just kidding.

A few months back, Marco took the time to tell me his story and I was blown away by a number of things not the least of which was his ability to stick to his guns.  Apparently, he's had some opportunities to make some deals, which would have helped him advance with his company, but, which he felt was not in his long term interest.  It takes a lot of "cojones" to stick to your guns like that.
Since our first conversation, I've seen Marco travel to Silicon Valley and become much more visible on the web.  He's preparing to announce something exciting in the near future.  Either way, I'm sure I'll be writing more about him in the future (as will the media in general).  This is an intelligent, talented and persistent entrepreneur who is a mover and a shaker and definitely "someone to watch!"
On a personal note, it was great to pick my twin brother up at the airport last night for his yearly visit. We're psyched for Thursday, which is the day we've chosen to spend time together.  Twin power!