Vibrant Market in Latin America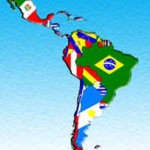 Well, I finally finished a pending article I needed to write and it just got published yesterday by VentureBeat.  It was an interesting topic related to a Santa Monica, California start-up called Sency, which offers a real-time search engine.  It was cool talking the CEO, Evan Britton, and hearing that he also launched a Spanish version of the site especially for the Latin American market.
There's no doubt about it, this region has two really neat things going for it, among others: 1) There's so much more room for growth in so many areas with special mention for anything related to online and mobile. 2) It's a vibrant and very sociable environment to be in.  It really does boggle the mind how much opportunity there is down here and it certainly is good to be off the corporate "teet" and make a play towards tapping into that potential.
It is so cool to meet amazing entrepreneurs and innovative people down here at this time in the region's development.  Digital Innovation is just starting to take off and the next years will certainly be exciting ones. What's so stimulating about this time is that there is so much market education to get done and it really feels like the online community is getting together to find ways to accomplish this (educating the market).
Well, those are my thoughts. What are yours?