The Silicon Valley Impact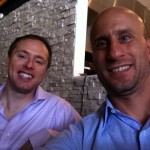 It's only been two weeks since I got back from my trip to San Francisco and I'll be going back this week.  It was really a blast last time not only attending the Founder Institute activities, but also hooking up with an old friend (and crashing at his place).  The Founder Institute has been amazing in terms of the energy and the impact the program offers.  Nevertheless, for me it's Adeo Ressi, its creator, and his team, especially Cindy and Gopal, who all make it all so worthwhile thanks to their openness and great personalities.
Also, thanks to them, countries such as Colombia, South America have a bridge to Silicon Valley.   This country isn't on the map for many in the US, but the impact that this program is already having and will have on this country is difficult to describe.  Nothing else happening in this country on the start-up front (and there is quite a bit happening) has the potential to create as big of an impact.
One of the activities that I attended was a luncheon to honor the top contributors (mentors) at the institute.  I was looking forward to talking to one of the mentors, David Weekly, and his fund in Mexico. I had met Cesar Salazar, who handles the fund activities in Mexico, a few months back at SXSW.  Needless to say, I'm sure I'll be talking with David.  Like so many who have had success in the digital start-up space, he's a super open person.
In that vein, I had the good fortune to sit next to Jason Johnson who, among other things, has set up the Founder's Den as a unique place for a select group of start-ups.  it was really interested to hear that he had traveled to Costa Rica (and enjoyed it immensely) and had actually had experience with programmers in that country.  I really enjoyed our conversation which touched into topics such as family, travel and start-ups.  While we spoke, something that could only happen in Silicon Valley was occurring in the background.  Another impressive dude, Phil Libin, CEO of Evernote, was walking around the room in robot form as he joined the event (and received a much deserved award) all the way from Spain.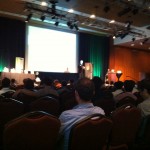 Among the other activities that Adeo had lined up was the biggest (I think) Founder Showcase ever with excellent keynotes from Naval Ravikant and Mark Shuster.  At the event, a number of start-ups gave their pitches and the networking at the event was super productive. The general consensus seems to be that there is definitely a bubble that is about to burst.  Nevertheless, it might be wishful thinking, but it seems more like some isolated cases of overvaluations (Color, Twitter, some early stage deals, etc.) than a general bubble along the lines of what Ben Horowitz has eloquently (and with more gravitas than I could bring to the table) written about in his blog.
Well, next week, I'm off to the valley once again with some great meetings lined up.  This time I'll be accompanied by my co-founders in an initiative to bring funding to some select start-ups in Latin America and, especially, those with operations in Colombia.