Super bowl Sunday in Bogota Colombia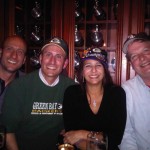 About 15 years ago, when I first moved down here to Colombia from Silicon Valley, one of the biggest culture shocks was the fact that it was pretty much impossible to find a bar where I could watch the Super bowl.  After checking out numerous places, I was just unable to find any place that was showing the game (most didn't even know what the Super bowl was).  This is in stark contrast to how things are today where one has a host of options where to, not only watch the Super bowl, but to really enjoy it.  By the way, my brother and I are the two on the left side of the photo (guess who is who).
This may not have anything to do with anything, but last night, while watching this at the local Irish Pub, I couldn't help thinking about how things have changed.  A lot of expats really are enjoying Colombia and this is just one of many reasons why they choose to stay.  In the last few weeks, I've been amazed by the amount of Colombians living abroad (Diaspora) who are either moving back here or considering it. Almost all of these are focused on the tech start-up market.
Well, on a personal not, last night was also the end of a three week trip that my brother and his friend, Tim, have taken here in Colombia.  It was great to see how much they thoroughly enjoyed their trip and referred to it as the "trip of a lifetime."  It seems that this isn't just a case of a couple of guys who enjoy remote places.  This morning I was having breakfast with a super sharp entrepreneur, Camilo Gomez, CEO of Mantaraya Travel and he mentioned an article in the New York Times with it's readers naming Colombia as the second highest rated travel destination. Also, check out this article from the Huffington Post on why it's Colombia's time.
Well, it was quite wild time last night. Here's a quick video I took during the game (interviewing Tim, but also with my brother, sister, Matt, Thomas and Daniel!):