Speech at Universidad Sabana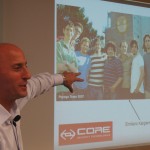 A few weeks ago, I had the opportunity to give a speech about Digital Innovation in Latin America. It was a great experience and I appreciate Juan Correales' invitation.  I gave the speech within the context of their annual entrepreneurial event. I was able to talk with some impressive students about their projects.
For me, it's extremely gratifying to see so much interest in hearing about the possibilities today in terms of Digital Innovation.  Specifically, I try to evangelize the fact that people need to change their internal "chip" and understand that, in Latin America, they have the same access to gobs of information as well as having low-cost tools for creating new services and marketing these services.