Nostalgia and Microsoft Event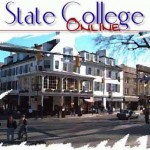 Man, what an amazing day.  A few hours ago, I got off the phone with a colleague from my first job out of college.  A guy I had last spoken with more than 20 years ago!  We were both Advanced Design engineers for a defense contractor called HRB-Singer straight out of college and were not at all into our jobs.  Incredibly enough, we both ended up focusing on online marketing.
Man, my life is so different right now than what it was then.  I was this young whipper snapper on the prowl and without any ties.  Who woulda thunk it.  Back then, working was a hobby since I wasn't really putting so much effort into my tasks (I'm ashamed to say) and was just soaking up a ton of life experiences.  Gary (that's his name) and I ended up getting a gig in California (we were based out of State College, PA) and we were loving life out there.  The company set us up with great cars and amazing apartments and we really enjoyed our time out there.  The only thing we weren't too crazy about was the work we were doing (or not doing).
It seems that Gary, got into graphic design and become Creative Director for a number of interactive agencies and has been working as a consultant for some time and has made a nice home in Denver.  It really took me back today talking with him and remembering those times.  It really made me think about the journey I've had during the past 20 years when I lived for 5 years out there in California and then have spent the last 15 years here in Colombia.  Pretty wild.
Also, today I just got back from Cali where I gave a presentation on Cloud Computing at an event sponsored by Microsoft. It was interesting, but expect the events in Medellin (next week) and Bogota to be a bit more active.  Well, time to do some work and hit the hay.  I also had a great conversation this evening with an amazing online marketer who's based here in Colombia, but who's done amazing things in the US market. There's some real talent down here.