Lots of speeches lately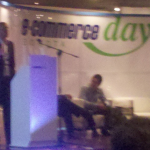 It looks like I've been doing a lot of talking lately about Digital Innovation and Internet startups and the startup ecosystem.  Last night, I had the opportunity to talk at an event called eCommerce Day Bogota along with impressive entrepreneur, Oscar Giraldo, founder of Arcaris.  It was great to hear the interest from everyone in entrepreneurship and  what we've been accomplishing with the Founder Institute in Colombia.
Additionally, last week, I had the opportunity to address a group of bankers at an event sponsored by the Bankers' Association.  I was able to give them a perspective on where the startup action is in terms of the financial services vertical and was happy with the feedback and the interest from the industry in these topics.  I was accompanied by my Founder Institute Colombia team member, Juan Manuel Lopez as well by a co-founder of one of the Founder Institute graduating companies that is firing on all cylinders, financial product comparator site: Comparamejor.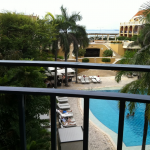 Last but not least, I had tremendous pleasure of staying in some swanky accommodations in Cartagena and took advantage of this by smoking 4 of my favorite cigars during that two day period.  I'm sure hardly anyone kicks back like that, but to each his own.