Latin American Startups – Yesterday's News Items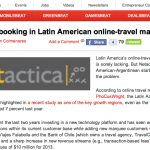 Yesterday was an interesting day in "Startupland Latin America." TechCrunch published an article about Groupon's entry into this market by acquiring Chile's ClanDescuento and Brazil's ClubUrbano.  According to the article, the blogosphere is abuzz with the fact that ClanDescuento (humorously called SpamDescuento) built up its audience with a ton of spamming, which is a shame since companies such as Compra3 which I wrote about a while back, have been innovating in the space. The article also mentions a blogger called Mariano Amartino who has some interesting posts (note to myself: I need to explore more Latin American blogs).
Also, yesterday, VentureBeat published my article on a really interesting online travel company called Netactica.  This is what happens when you get two Argentineans together with an Aussie.

You get some innovative and robust end-to-end technology to help Online Travel Agents (OTA) and others (such as the impressive guys at Mantaraya Travel) be successful in Latin America.
Mark my words. Digital Innovation is about to explode in Latin America.  There's still a lot of evangelization to get accomplished in this region, but the list of future success stories will continue to grow from examples such as Buscapé and MercadoLibre to more and more companies getting outside funding.