How about a smart phone that's always charged?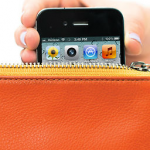 I'm finally back posting to my blog after a several month hiatus while I was running the Founder Institute in Bogota and Medellin.
I can't even count the innumerable times that I've felt the frustration of walking around with an uncharged iPhone in my pocket.  That's why I was intrigued when I met Liz and Dan Salcedo during my trip to San Francisco this year and watched as they took advantage of my shopping spree to do more research for their startup called Everpurse, which integrates an iPhone charger into women's handbags.
We were meeting because Dan and I had hooked up thanks to finding out that we've had similar experiences (e.g., Colombian background, startups, Founder Institute, etc.).  Fortunately, Dan brought along his lovely wife, Liz, and I came to know a truly impressive founding team.   I came to appreciate Liz's thoroughness and decision-making prowess after conversing and after she helped tremendously during my shopping excursion.
Instead of trying to solve the smart phone (starting with the iPhone) battery life problem by creating a better battery, Everpurse is allowing women to take their charger with them while staying fashionable.  As the below video shows, just slip the smaller purse with charger installed into any handbag and you're ready to go.  Just watch the reaction of potential consumers.
The Wow effect. Blind, first-time reactions to the Everpurse. from Everpurse on Vimeo.
In the short time since they started their venture, they have been featured in a number of publications and are more than half of the way through their $100,000 KickStarter fund raiser.  There are a lot of things to like about this team not the least of which is their ability to execute on a world-class level.
The product looks great and I'm sure they'll get quite a bit of traction. If you get a chance, I highly recommend giving them a serious look, especially if you're looking for a distinctive gift for a loved one.