Hawaian Shirts and Startup Tips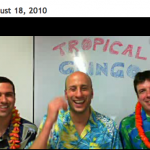 This Wednesday we had a great Tropical Gringo Show (in Spanish) with a super interactive audience and startup tips from Thomas, Brian and myself.  Also, we were transmitting a brand spank'n new higher resolution camera direct from the offices of VivaReal in Bogota.  We also touched on some news items as well as recommendations for marketing your startup.
Gabo Sarmiento asked a great question about Groupon, Compra3 and the whole group buying space in Latin America and we will be covering this in our next show.  Stop buy and watch us next Wednesday at 7:30pm (Colombia time).
Finally, if you're interested in attending a great panel during SXSW in Austin on investing in Latin American startups, please vote for this by clicking on this sentence.