Fun times in Colombia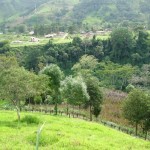 I just had a great time visiting a place in Colombia called Chinacota.  This was actually the place where my mom was born and where I spent some great vacation days as a child when we'd come down to Colombia from Pennslyvania for summer vacation.  My brother insisted that I hook up with him and his friend, Tim, who was also visiting.
Not only was it a bit nostalgic, but it was great fun and gave me some much needed rest as well as an opportunity to disconnect from the daily routine.  It was really great to get away and just relax, have fun and a bit of drink and cigars (my favorite).  My brother had an interesting contraption called "la caja china" shipped over and we roasted a pig inside a box (which was really an oven).
Colombia has a ton of great points including the way it's people like to have fun and enjoy life.  it was wonderful to see this through the eyes of my brother's friend (Tim).  He has been having a blast, going to the local country club and playing golf and tennis while at night he enjoys the gettogethers that everyone attends.  There's just an amazing love of life down here that shows up especially in these smaller towns (away from the capital).
Now it's back to work and things seem to be coming together nicely with the Founder Institute initiative.  We alrleady have 30 applicants in Bogota and 400 people registered for the conference with Adeo, the creator of the Founder Insititute.  I've got a number of options in terms of venues and need to decide which one makes the most sense.