Founder Institute Grad Thotz.net: New way to visualize your info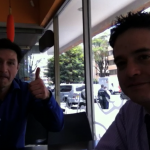 From a class of 34 founders, the Founder Institute in Colombia launched 7 start-ups with 9 graduates.  It was a tough program and many founders weren't able to make it through the process.  Andres Cifuentes and Carlos Rozo were definitely the co-founders (of Thotz) with the biggest global vision: to help users visualize their information.  They're currently working away at developing the initial app for Thoz.net that will run on the iPad and on Android Tablets and will give you a visual representation of all of your Google Apps information.
Carlos is an information/knowledge management freak (he studied this topic in Australia) and Andres Cifuentes is a successful entrepreneur focused don the Google Apps market.  They are building a strong team with a developer (Alex) and a designer (Gloria) working on the first version of the app.  Aside from this, they have been meeting with different users to get an understanding about how they'd organize their information from a conceptual perspective.  If you'd like to sign up for the beta you can sign up here.
Here's my quick interview (in English) with Carlos:
Founder Institute Grad Thotz.net from Tropical Gringo on Vimeo.