Fifth week at Socialatom Ventures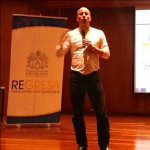 We just finished the fifth week at Socialatom Ventures and now the teams are focused on getting results (or traction).  A number of the companies have changed their focus and are starting to validate their new assumptions (or hypotheses). Also, we're starting to practice longer pitches as we get ready for our trip to New York City (NYC). We're all traveling Thursday night and have a meetup lined up already on Friday night.
On Wednesday, I gave a presentation at one of the local colleges called Javeriana University.  I really thank my friend Carlos Vanegas, an experienced entrepreneur and excellent writer, for inviting me to speak as it was a rewarding experience.  It also got me out of my comfort zone of taking while using my favorite crutch (slides) as I had to speak off-the-cuff about what brought me to where I am today.  My favorite part of the night was the question and answer period where I got to hear what the students most had on their minds (e.g., how to find a technical cofounder, where to spend the little money they have, etc.).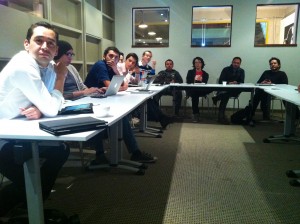 During our Wednesday midnight progress meeting (after my presentation) with all twelve startups, Carlos was able to join us. He heard everyone's pitches and gave his feedback.  Add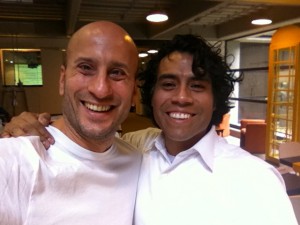 itionally, we told the startups in advance that the startups that Carlos saw the most potential in would be highlighted on his blog, which gets approximately twenty thousand visitors a month.  Fortunately, Carlos was impressed with quality of the startups and chose more than one about which to write.
Aside from that, I got to see my new friend Arturo Noriega, founder and Executive Director of Centro Community Partners, a nonprofit that provides business training to under served entrepreneurs.  Arturo had reached out through email and I met him for the first time last week at our accelerator.  Aside from being impressed by the work he's done around the world to help people become more successful, I enjoyed hearing him recount his meetings with his professor and mentor, Peter Drucker, who I admired immensely.  It was great seeing him again this week after his trip to Pasto and Quito, Ecuador.  He's a great role model not just as a professional, but as a human being.