Digital Startup Ecosystem in Colombia – Bogota Meetup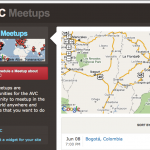 Well, it's been quite an active week. I had the good fortune to talk with Arturo and Omar from Emprende.la about the state of Digital Innovation in Latin America (according to moi). If you wish, you can listen to the podcast where I discuss my Incubator project and the fact that I'm still at the initial planning stage.  I also gave a radio presentation to a local station called RCN where I spoke about Digital Innovation in Latin America. I made this presentation utilizing the web platform called Pio.la.
Finally, one of the sharpest Venture Capitalists and Angel Investors in the business (according to moi), Fred Wilson, is promoting a global series of Meetups to talk about start-ups.  Please join me next week by clicking on the widget below so we can all meet in person and discuss the current start-up environment in Colombia and Latin America and what we can do to accelerate the creation and growth of innovative digital start-ups.   See ya next week!