First Bogotá AVC Meetup a Success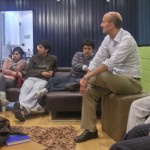 Last Tuesday, we held the first AVC meetup in Bogota. We had a great turn out of successful entrepreneurs with customers in Latin America as well as in the states as well as a local investment fund. We were fortunate in that Javier Montenegro graciously allowed us the use of his company's amazing offices at Studiocom.
We spoke of the great success stories such as MercadoLibre, Buscape with market valuations greater than $1 Billion and, in the case of Buscape, in the hundreds of millions.  Though Brazil, Argentina and Mexico have definitely taken the lead, there was agreement that Colombia has all the pieces to also become a force on the web.
The conversation was great and quite interactive.  According to the participants, there seemed to be quite a bit of consensus on two areas where the Colombian environment needs a bit of help in terms of entrepreneurship: 1) training and preparation of talent (e.g., technical and otherwise) and 2) guidance for entrepreneurs wanting to take their companies to the next level. Also, it seems that there is much interest in any initiatives in these areas as more than one participant was asking what was the "next step."  More than a Meetup to discuss these topics, it felt as though the participants wanted to become part of a specific initiative.