Silicon Valley continues it's Latin America Discovery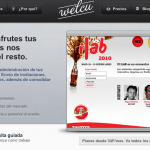 This Tuesday it was announced that Google CEO, Eric Schmidt's, investment vehicle, Tomorrow Ventures, invested in a Chilean web event management company called Welcu. The company has already gartnered an impressive list of corporate clients from Coca-cola to BBDO.  The fact that Schmidt's investment company chose a company in Latin America for it's 22nd investment attests to the fact that this region should be on the radar screen of more and more investors.
It's important to note that Welcu is not simply a clone of established companies such as Eventbrite and others, but provides some innovation by more thoroughly integrating a social layer throughout its event management platform. The company has an impressive list of previous investors including Oskar Hjertonsson who recently sold his company (along with his cofounders) to Groupon.