Digital Innovation is on its Way from Latin America
A Conversation with Emiliano Kargieman, Argentinian, digital innovator and founder of Core Security Technologies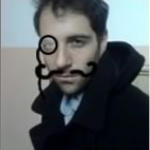 When you start a blog, everyone tells ya, it's important to choose a topic that you're passionate about.  I've got a number of hobbies (none, very healthy) such as smoking stogies, watching movies and laying on the beach.  However, I'm passionate about digital innovation in Latin America and that's what I want to write about.  Part of the reason may be because I like thinking out of the box or I just like the underdog storyline and believe that something like creating world-class hi-tech firms in Latin America is possible.
This theory is all well and good, but there's nothing like feeling of talking with and/or meeting someone who's actually accomplished it.  That's the sensation I got while talking with Emiliano Kargieman the other day.  Emiliano, a mathematician by training, wanted to focus on big challenges to flex his math and programming skills so, in 1996, he decided, at the age of 19, to get together with his buddies and build a security software company focused on the international market.  Though that age might seem young to some, Emiliano had already run three companies by this time and had been programming for nine years.
Emiliano's self-deprecating humor belies a passion for competing in the global marketplace and half-jokingly adds that, thanks to the fact that none of the founders had an MBA, enabled them to break existing paradigms in Latin America and build a global software firm from Argentina.  I didn't delve too deeply into this experience during my conversation with Emliano, but suffice it to say that Core Security Technologies today is a company with sales headquarters in Boston, millions of dollars in revenue, hundreds of customers around the globe and millions of dollars in Venture Capital investment.
The focus of my discussion with the Argentinean entrepreneur was more on the future.    As a result of his success with Core Security Technologies, he decided to create an early-stage VC firm, Aconcagua Ventures, with some of his colleagues.  One of the ventures that have come out of this initiative is Popego, Inc. a 12-person company focused on filtering the information on the web through the use of Artificial Intelligence and other technologies.   The company was recently named one of the most innovative start-ups of 2008 by Techcrunch.
Though Popego certainly has some challenges ahead of it particularly in the realm of customer acquisition, it has a lot of sharp minds behind it as well as a backer with demonstrated success in the marketplace.  The pain point that Emiliano is attacking is a real one (accelerating clutter and noise on the web) and quite ambitious.  Basically, its all part of a realization that is more obvious today than it was in 1996 when Emiliano started: emerging markets such as Latin America have a role to play in terms of global digital innovation.  It's no longer a question of access to the global stage, but more a matter of whether Latin American entrepreneurs decide to participate.
As he mentions, in a world where cloud computing is placing enormous processing resources at the disposal of start-ups and the internet at as medium permits global access in an instant, the old paradigms in Latin America (and other markets) of focusing exclusively on local markets are obsolete.   Indeed, I believe that, although he represents an exception today in Latin America, as he and other entrepreneurs in emerging markets continue to prove themselves, they will provide validity to the thesis that the distinction is not so much one of geographic location, but more, as Emiliano explains, risk adversity.
As a mathematician, Emiliano sees no reason to expend the same effort for little return.  He admires entrepreneurs such as Jeff Bezos who didn't just focus his efforts in offering a percentage more books than his competitors, but thought in terms of orders of magnitude of improvement.   Along these lines, he believes in organizing Latin American talent around solutions that offer orders of magnitude more value.
True to his philosophy, he is focusing on a big, challenging problems.  As he elucidates, IBM won the hardware wars, Microsoft the software wars and Google the information wars.  The next space up for grabs is what he calls, "Information Contextualization" or making the web more meaningful for each user and this is where Popego is making every effort to clear a space for itself.
Similar to the opinions expressed by the CEO of Zoho, Emiliano sees definite advantages to creating start-ups in Latin America and particularly in countries such as Argentina.  In these countries, risk is part of daily life and the vicissitudes of that countries economy only increased the ranks of entrepreneurs looking to create new value.  Also, he, as well as myself, is a fan of the initiatives that Chile is implementing to drive entrepreneurism.  The specific programs were recently detailed by UC-Berkely professor Vivek Wadhwa.
In the end, with entrepreneurs such as Emiliano in Latin America's ranks, I'm assured to be writing about Digital Innovation in Latin America for quite a while.