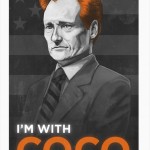 During the last couple of weeks, quite a public battle was playing out between NBC and, now, former The Tonight Show host, Conan O'Brien.   Moreover, as announced a few days ago, the embattled comedian and his staff will be leaving the network with an exit package worth approximately $45 million.
Ironically, his ratings jumped substantially during the brouhaha as well as his online support.  Though NBC to some extent uses social media tools such as blogs and twitter, one wonders if the company could have employed such tools to engage more with audiences and come up with a different outcome?
One example of the online support that Conan garnered during the impasse is that created by designer Mike Mitchell.  Mr. Mitchell created the "I'm with Coco" image along with a campaign in support of the late night television star on a Facebook fan page that already boasts more than 300,000 members and has engendered a number of rallies in support of the late night star.
In contrast, Jay Leno's Facebook fan page has less than 50,000 members and, incredibly, was hacked on Sunday evening to display an image of Conan. Finally, checking blog activity on Trendpedia shows a spike in activity for the keyword "Tonight Show," among others during the last several days.
Would it have been possible for NBC to translate this Internet and social media interest into a more profitable business result for the network?  One thing is for certain, achieving such a result would have required more than simply using social media tools.  It would have required an organization willing to listen, react and respond relatively quickly to new and interesting options that pop up from such "digital" conversations.  It would have required a mindset where mistakes, such as this particular programming mishap, could be admitted and where fan criticism or suggestions would be encouraged and not lamented.
The actual form that such a strategy should take is debatable. Nevertheless, one company that seems to be embracing social media tools and, possibly, the ensuing organizational transformation that could result is MTV.  Recently, Carolyn Everson, EVP of strategy and operations for MTV Networks, stated that "digital learnings" are making their way into the linear business.  It's interesting to note that within the list of Top Social Brands of 2009 recently released by Vitrue, MTV ranks as number 4 on the list while NBC is number 68 – CBS and ABC are at 32 and 33, respectively. This would seem to indicate that the network might have some work to do in terms of more fully embracing audience engagement through social media.
Ironically, Comcast, the company due to acquire NBC Universal shortly, has been cited as an example of a company that embraced the use of social media (e.g.,Twitter) as a catalyst to improving their customer service.  This fact notwithstanding, Comcast is probably at the beginning of any transformational process and is actually ranked #100 on Vitrue's list of Top Social Brands of 2009.
Indeed, It's possible that the current industry dynamics and prior decisions made by NBC Universal management have placed them in too difficult of a position regardless of their use of any social media tools.  As mentioned above, companies such asMTV proactively mines social media activity related to their brand and culls valuable insights that inform their business decisions.
Conan certainly enjoyed much support through the Internet even mentioning as much in his farewell address.  Nevertheless, the question still remains.  Could NBC have produced a more positive business result by making better use of the increased social media "conversations" around this story?