Talking Fintech and remembering that life is precious.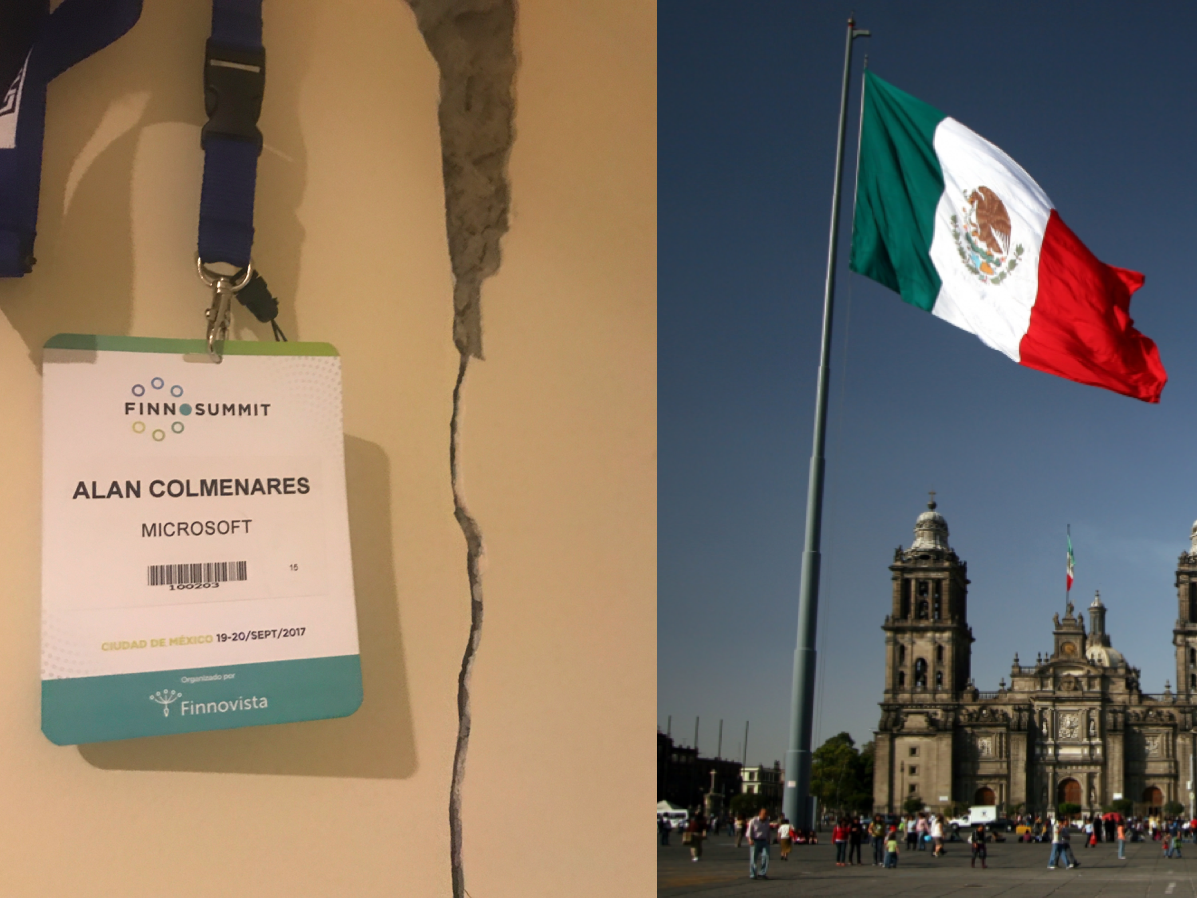 As anyone who knows me or reads this blog knows, I'm passionate about startups and think a lot about how digital innovation is changing the world.  Nevertheless, last week, while awaiting my turn to go on stage at a Fintech event, I experienced a 7.1 level earthquake that shook Mexico city on the September 19th. My heart goes out those affected by this tragedy. Though my hotel was left standing the above picture shows that it did not escape damage.   For me, this event served as a stark reminder of how fragile life is and how, in an instant, one's world can be rocked and how precious life and life's blessings (e.g., one's children) really are.
That said, I decided to write a post about some general thoughts that were going through my head as I was preparing to take the stage.  I was to be a part of a panel discussion on the state of Latin American Fintech startups and the startup ecosystem.  I was hoping for a lively discussion.  Though a post can't take the place of such a discussion, I think it will be cathartic to express some of my views here.
There are many detailed articles by venture capitalists and others in the region listing the interesting startups in key countries such as Brazil, Mexico, Argentina, etc.  A quick Google search will turn up great articles published in publications such as TechCrunch.  I've been fortunate in my previous and current jobs to travel around Latin America and have had a chance to meet some incredibly talented entrepreneurs.  Below, my aim is to quickly focus on some highlights from my own perspectives, principally, concerning the Fintech space.
In my estimation, the top three countries to look at in terms of Fintech startups are Brazil, Mexico, and Argentina.  I, personally, wouldn't place any of these in front of the other simply because you can find unique advantages to each country.  Once again, while I have met a number of entrepreneurs in each country since I don't actively invest anymore, I haven't been able to study many of these startups in depth.
Argentina is home to the powerhouse startups such as Mercado Libre, OLX and Despegar, which just IPO'd.  It is home to some awesome entrepreneurs who are not afraid to compete on a global scale whether that means shooting satellites into the sky (Satellogic) or expanding the capabilities of Bitcoin's public blockchain (RSK).  In the Fintech space, there are a number of interesting plays including Afluenta and a Bitcoin startup flying under the radar called Bitex of which I'm particularly fond after getting to know the founders during a breakfast chat about a year ago.
With respect to Brazil, home of Sequoia's only Latin American tech investment to date (Nubank), it's obviously the biggest (relatively) homogeneous market with the most international investor money and international startup founders.  There's a long list of interesting startups such as Guiabolso, but I'm particularly partial to the innovative QuintoAndar, which is offering to vastly improve the real estate renter's market. In the real estate space, it's important to mention VivaReal, founded by two friends, Thomas Floracks and Brian Requarth.  Years ago, while working as a corporate venture capitalist, I promoted an investment in a tax software company because of the country's byzantine tax structure.  Solving that tax reporting problem continues to be a source of opportunity for other startups.
Mexico is home to some incredibly impressive founders such as David Arana, CEO of small business lending startup Konfio.  Any short list would have to include Kubo, Clip and Kueski.  There are a number of other players in the lending space such Prestadero, whose founder has shown real grit in building his business. In the payments space, I'd mention my friends at PayU (great angel investors in Colombia), Conekta and, last but certainly not least, OpenPay, the company that BBVA acquired last year as a result of work by my former boss and me at that company.
Though countries such as Colombia with Mesfix and ComparaMejor recently, raised USD $10M (and Founder Institute Colombia's biggest success story) have interesting startups, I'd have to say that Chile has the fourth most interesting startups.  There are more early-stage opportunities such as Destacame and Finciero, among others.
It's clear that the opportunities in the Fintech space are tremendous.  Nonetheless, these founders have to build strong organizations and viable business models not only to grow but, also, to validate the investments made by their investors (venture capitalists are not excited by companies that simply survive).  So far, my perception is that Brazilian investors are the most mature in understanding the importance of building such strong organizations with an explicitly designed company culture.
On a final note, I'm a big believer in the long-term impact of both Bitcoin and the blockchain.  I don't think that we've even scratched the surface of what this technology will produce.  It's going to take some time to develop, but the future AI infused world where the Internet of Things has vastly more connections between things (versus people connections) will require a distributed and secure network to transfer value. But, that's a topic for a future post.