Great Bogota Visit from Gabe Zichermann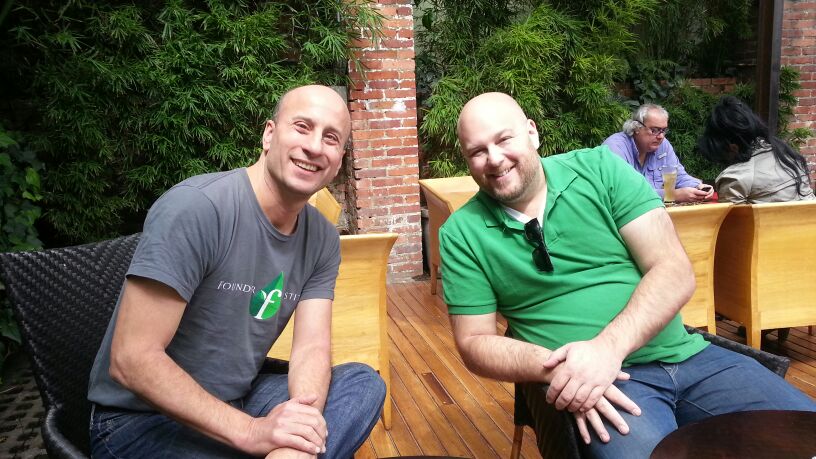 Before 2013 finished, we had a great Meetup with Gabe Zichermann who stopped by Bogota . It was December 27, 2013 and Gabe decided to relax a bit in Bogota before continuing his travels on to Lima, Peru.  Gabe had been in Bogota and Medellin more than a year ago when he mentored during the 2012 semester of the Founder Institute in Bogota and Medellin.
It was so satisfying to hear from him that he really enjoyed his stay last time and, when setting up his trip to Peru, he decided to make Colombia one of his stops. This was all the more surprising given the fact that I went a bit overboard during Gabe's last visit as I scheduled a Gamification workshop and beaucoup press interviews in addition to all of the Founder Institute mentoring.  Wayra Colombia graciously had allowed us to use their excellent facilities both for the workshop a couple of years back and this latest Meetup.
Gabe is a top mentor international mentor and also co-Director of the Founder Institute in New York.  Among other things, he created the Gamification Summit and has written a number of books on Gamification.  It was extraordinary to have him visiting Colombia and his agreeing to doing an excellent Meetup with a room full of entrepreneurs was much appreciated.
As usual, Gabe was amazing.  At the beginning of the Meetup, he asked everyone for their specific questions and wrote each of these down.  After this, he went down the list of questions one-by-one and answered each one as a conversation developed.  Before this, he explained that the idea is to take the adictiveness and engagement of games and apply these to business and other problems (e.g., customer loyalty, employee engagement, etc.).
The entrepreneurs at the Meetup asked about such things as increasing the number and engagement of users who use their apps, how to apply gamification to employee engagement, etc.  Gabe gave specific examples and how, many times, instead of offering users cold, hard cash, enhanced reputation and other value-add attributes can have much more impact.  He gave us some great tidbits such as the fact that the biggest game playing demographic are women over forty.
Also in attendance was my good friend Tuyo Isaza along with some guests from the corporate market. Tuyo later joined Gabe and I for lunch and we had an excellent conversation about a  variety of topics including Gabe's perspective on Latin America and Colombia in particular.  Gabe recently was interviewed by Tuyo on his Martes de Marcas show and you can check this out here.
Finally, I want to thank my good friend Conrad Egusa, a talented and dedicated entrepreneur who helps startups get coverage in publications and who blogs on his company's site.  Thanks to his encouragement, I'm going to be writing more often.  If I don't, I'll start owing him more than one dinner at a swanky (excuse my anachronistic English idioms) restaurant.