Platzi closes $2.1M seed round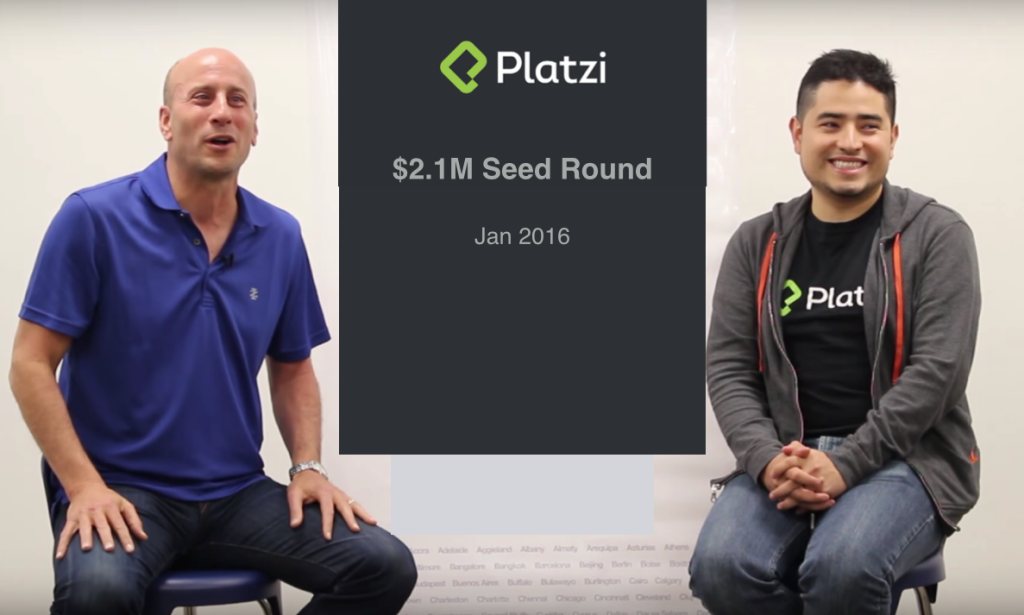 I'm happy to report (as did the Wall Street Journal) that Platzi has closed a $2.1M seed round.  It's CEO and co-founder, Freddy Vega, is pictured above during my recent interview with him in Colombia.  Freddy is Colombian and his talented co-founder, Christian Van Der Henst, hails from Guatemala. Nonetheless, both are true blue global startup guys (citizens of the world).
I've always felt that these guys are valuable role models particularly for entrepreneurs in the region because of their having been able to bootstrap their business through sheer talent, desire and hard work.  I see this as extremely valuable in terms of a model that a large portion of Latin American entrepreneurs (that don't have access to initial capital or highly placed business connections) can emulate.
The company has a growing customer base that pays a monthly or yearly subscription to access the company's database of courses.  Students can follow specific career tracks and choose whether to view pre-recorded courses or participate in live classes.
As Freddy mentioned in a recent blog post (in Spanish), closing a round of funding does not mean that they've made it, yet.  However, one thing it does mean is that more investors are betting that these two founders have a good chance of figuring things out and building a large and valuable company.  This vote of confidence from Silicon Valley investors comes after having graduated from no less than YCombinator.
Both Freddy and Christian are incredibly open and willing to share their knowledge.  Indeed, this is the type of DNA that any Edtech startup should have, but they also are helping to infuse Latin America with a bit of the Silicon Valley ethos (e.g., sharing, networking, etc.).  In my opinion, this is incredibly important as I truly believe that some of the biggest obstacles in these countries is cultural (e.g., provincial thinking, perspectives based on scarcity and not abundance, etc.).
As I mentioned, I recently interviewed Freddy as part of a set of interviews with top Colombian startup CEOs and asked him about his journey as an entrepreneur (he started at a very early age).  During the interview, he tells of his initial ventures and how he's been able to learn from past mistakes and capitalize on identified opportunities.  He, also, speaks of the importance of finding a solid co-founder that has strengths where he has weaknesses and visa versa.
For those interested in watching, I'm including my interview with Freddy (in English) below: